Fiona Galley
B.S. IN PUBLIC HEALTH
Graduated in May 2020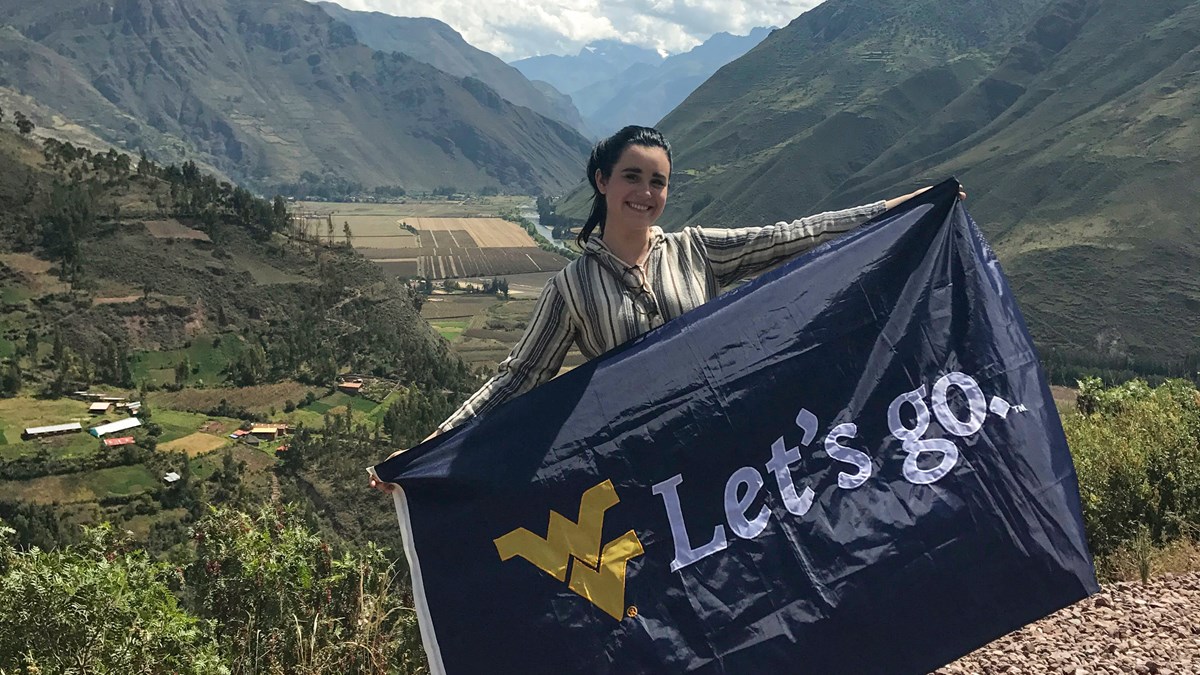 As someone who had not previously been exposed to the field of public health, I was thrilled to discover a program at WVU that seemed to align with my interest.
What is your hometown?
Lakeside Park, Ky.
What does public health mean to you?
Before transitioning into my public health degree, my understanding of public health was very limited. However, throughout my classes, research experiences, internships and volunteer experiences, I have developed my own idea of what public health is and how important public health is to our local, national and global society. To provide a very general textbook definition, public health is the study of the health of the population which includes a variety of specialties including epidemiology, social and behavioral health, occupational and environmental health, and much more. I perceive public health as both a science and art rooted in improving community health and safety through a variety of measures. These measures include, but are not limited to, disease prevention, education, policy making and research. In my opinion, the most important aspect of public health is understanding the social determinants of health and addressing health disparities. To advance the health of our population, we first need to identify the populations that are most in need of public health interventions, education and resources. In addition, public health is rooted in teamwork. A multitude of various organizations, institutes, universities and governments come together to strategize ways to improve population health. Public health is a growing field with increasing importance as the global population continues to grow. All in all, the field of public health to me is the backbone of our society's health and wellness.
When did you know that you wanted to study public health?
I came to WVU with the goal of applying to medical school to become an obstetrician gynecologist. After a variety of clinical experiences, including physician shadowing, I determined that I no longer felt being a physician was the correct career path for me. However, I was still very interested in the healthcare field. A student currently in the Public Health program at WVU communicated information to me regarding her field of study. As someone who had not previously been exposed to the field of public health, I was thrilled to discover a program at WVU that seemed to align with my interest. After setting up a meeting with the dean of the School of Public Health at WVU and learning about how I could incorporate biology and public health into a career, I decided that I would pursue a degree in biology as well as a degree in public health. This was the best decision I made as an undergraduate student.
Why did you choose to study Public Health at WVU?
Although I did not begin my time at WVU as a Public Health student, I chose to transition to this field of study for a multitude of reasons. From day one in the major, I encountered professors and advisors who show passion for their work and who care about the success of their students. In addition, the School of Public Health offers a variety of exceptional opportunities to their students including research projects, teaching practicums, career planning and guidance, and much more. Lastly, studying public health at WVU allowed me to complete two separate degrees in the timespan of four years. The curriculum is flexible and offers room for a multitude of unique electives that address different branches of public health including epidemiology, global health, environmental health and occupational health.
Have any particular faculty members made an impact on you while at WVU?
Although many of the faculty and staff members at WVU have positively impacted me in more ways than one, there are three professors whom I would like to recognize.
Dr. Danielle Davidov is an assistant professor at the School of Public Health and teaches a variety of courses. I was able to work alongside Dr. Davidov as a teaching assistant for Social Determinants of Health. During this time, Dr. Davidov became an important role model for me. Dr. Davidov is exceptionally intelligent and hard working. She is passionate about the research she conducts as well as the material that she teaches. She provided immense help to me during my graduate school application process and provided me with a letter of recommendation for these applications. As I have now been accepted into my top choice graduate program, I cannot thank her enough for the help and guidance throughout this process.
In addition, Dr. Carlos Siordia is an adjunct associate professor that specializes in occupational health. I took Public Health in the Workplace with Dr. Siordia and was able to collaborate with him on two manuscripts that are currently under publication review. In addition, Dr. Siordia helped me obtain an internship at the National Institute of Occupational Safety and Health (NIOSH) which has been an incredible opportunity. Under the mentorship of Dr. Siordia, I have learned how to write scientific manuscripts, how to conduct quantitative analyses using statistical programs, how to interpret data, ways in which data can be translated into health policy or clinical interventions, and how to network in the field of public health. The research that Dr. Siordia conducts at NIOSH is remarkable. I hope that as I transition into graduate school, I can conduct research using the skills that Dr. Siordia has graciously took the time to teach me.
Lastly, Dr. Ruchi Bhandari is an assistant professor in the Department of Epidemiology at the School of Public Health. The epidemiology course I took with Dr. Bhandari confirmed my passion for epidemiology. During this course, I worked alongside Dr. Bhandari and two other students to conduct a literature review. During this project, Dr. Bhandari provided constructive criticism that allowed me to improve my writing skills. In addition, Dr. Bhandari took the time to sit with me and discuss future graduate school and career plans. She provided me with advice that I will carry with me as I study to become an epidemiologist. She cares about her students and is willing to help them succeed in any way possible.
What is a moment that made you realize public health is the right fit for you?
I realized public health was the right fit for me during the first epidemiology course that I took during the program. During this course, I realized how to combine my biological studies with my public health studies to pursue a career in health. I realized that epidemiology was the perfect mix of research, education and field work. I soon learned that epidemiology also allows me to focus on specific populations or topics that I am most interested in studying.
What unique experiences have you had during your time at WVU?
Although I have been involved in many awesome experiences at WVU, I specifically want to highlight two of these that have been most beneficial for me. I am involved in a research lab that studies metabolic pathway in plants. You may think, how does that relate to public health? Well, I learned quickly that research is research. The skills I obtained in this research lab were also useful in research I've conducted in the field of public health. In addition, having a background in biochemistry provides me with a unique perspective on various public health topics.
I also became involved in WVU's Public Health Global Brigades. This is an adventure that I highly encourage every public health student to experience at least once. Within this organization, a group of students travels to developing countries to implement sustainable public health measures in local communities. During this experience, students can work directly alongside community members to learn about their culture and their needs. It is not only a rewarding experience, but it is also an experience that gives students an idea of how public health is at work in the global community.
Tell us about your field placement experience.
My field placement is with Girls on the Run of North Central West Virginia. I am a coach at Cheat Lake Elementary School and serve as an intern. I lead practices with a team of girls each week that help them to develop healthy habits aimed at nurturing their physical, mental and emotional health. During each lesson, we conduct a lesson followed by running. I help to prepare girls for the 5k that Girls on the Run holds at the end of each season. As an intern, I work in the office to analyze attendance data as well as help on various projects. I have learned during this internship how important it is to nurture the health of a child from a young age. By educating young girls on ways in which they can maintain their health, we can prevent health issues that may develop later in life.
What do you want to do after graduation? What is your ultimate career goal?
After graduation I am obtaining my Master of Public Health in Epidemiology from the University of Pittsburgh. I plan to declare an emphasis in Occupational and Environmental Health. Once I complete my master's degree, I will be pursuing a PhD in Epidemiology. My career goal is to conduct research that improves the understanding of the relationship between the environment and health. In addition, I hope to translate data resulting from my research into prevention and intervention strategies aimed to improve global health. I hope to one day be working for an agency such as NIOSH that leads cutting-edge public health research and translates data into public health practice.
What would you tell future students about WVU and the School of Public Health?
I would tell these students that Public Health is flexible and can be tailored specifically to your interests. You can obtain a public health degree and work in many different health settings. WVU's School of Public Health does an excellent job at making sure students understand the different branches of public health and careers that they could pursue.
Why should someone choose WVU to study public health?
A student should choose WVU to study public health because they will be receiving an education that ventures outside of the classroom. They will be able to immerse themselves in a multitude of public health experiences including research, internships, study abroad and much more. WVU will ensure that students are on the right pathway to a successful and impactful career in public health.
What will you always remember from your time at WVU?
I will always remember the faculty and staff that work hard each day to ensure that their students are succeeding both inside and outside of the classroom. I will be forever grateful for the opportunities that the faculty at WVU has presented to me, and the role they played in helping me get into graduate school.