Graduation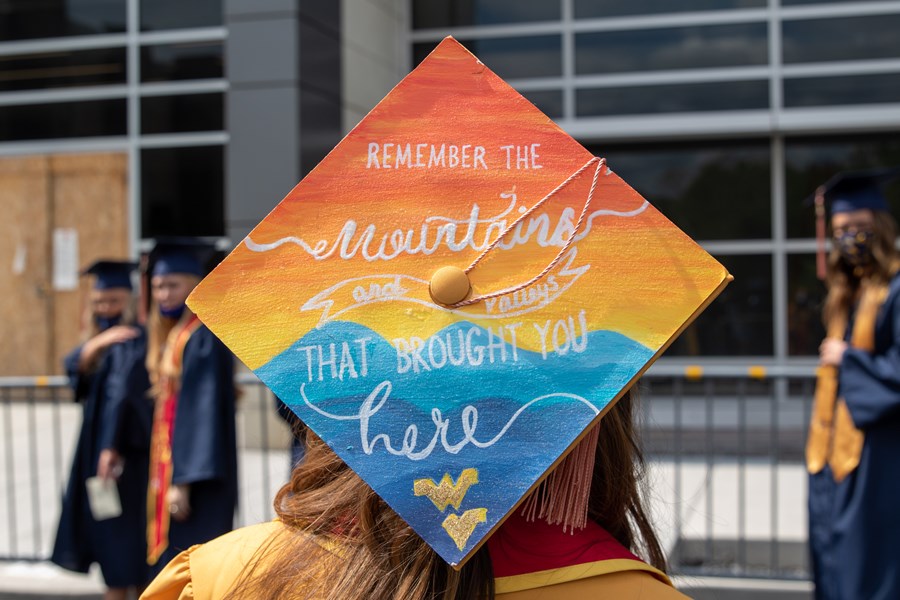 December Graduation 
For any student seeking to graduate in December 2022, please see the information below.
Official WVU regalia is available at the two WVU Bookstore locations and online at Herff Jones. Please purchase all caps, gowns, tassels and hoods prior to the day of your ceremony as no regalia will be sold at the venue. See the Commencement Attire page for more information about attire requirements.
Before the Ceremony
The School of Public Health ceremony will be on Dec. 17 at 2 p.m. in the Coliseum. 

Registration is required to participate in the ceremonies.

Review the

 

Clear Bag Policy.

 

Purses, backpacks, etc. cannot be brought into the venue.
The ceremony will last approximately two (2) hours.

Appropriate, comfortable footwear is highly recommended.

Park in designated areas. University Police and Parking staff will direct you to designated areas. 

Handicap accessible parking is available with a visible placard or upon request when you arrive. 
Shuttles will be available. 

Graduates: Check in 60 minutes before your ceremony at the basketball practice facility adjacent to the Country Roads Gate. Only registered participants and faculty are permitted inside.
Guests: Doors will open 60 minutes before each ceremony.

 

Enter through any of the four available gates. Seating is on a first come, first serve basis.
During the Ceremony
Follow all safety guidelines. 

Masks are not required on WVU campuses but are always welcome. The University will stock dispensers with disposable masks and hand sanitizer.

Restrooms and concessions will be open. Concessions will sell non-alcoholic beverages only (no food). Please limit your time in the concourse areas and enclosed spaces within the Coliseum.
Guests should not approach the stage

 to take photos, present gifts or congratulate graduates.

Need assistance? Ask a WVU volunteer.

 

Look for University volunteers wearing WVU lanyards if you have questions. Volunteers will be stationed at Guest Services tables at the Blue Gate.
Lost and Found: Call 304-293-7132.

 

Items will be kept for 90 days.
View live ceremonies at

 

webcast.wvu.edu.
GradImages will provide photography. Graduates will receive an email with a link, within 48 hours but usually sooner, to their photos and can buy prints if they choose.
Coliseum Procedure for Graduates
University Marshals will guide graduates to sit with their college on the event floor. Graduates will be called up by college to walk up on stage as their name is read to receive their diploma cover and have a photo taken on stage and again before heading back to their seat. 

Masks are not required on WVU campuses but are always welcome. Hand sanitizer will be available throughout the concourse.
All graduates who have earned hoods will be hooded. Hoods will be carried in, draped over the left arm. Hooders should process in and sit with the graduate they are hooding. Faculty are required to wear regalia to participate.

When the ceremony concludes, graduates will be directed back

 

up the steps to the concourse 

and 

may

 exit to the outside 

through 

any of the four gates

. 

Graduates and guests will be dismissed at the same time.
For more information on commencement, read more here. 
Applying for December 2022 Graduation
Students must apply during the term they intend to graduate.
Doctoral students are asked to select their committee members from a dropdown box.  Note: If a committee member is not listed, the student should choose any name (does not matter who) from the list. Once you've submit the application, notify Joe Andria (jandria@hsc.wvu.edu) who will administratively change the committee member name(s).
Students who have no financial holds on their accounts will receive email notification to their MIX account when their diploma has shipped. Tracking numbers will not be available. If a diploma is being mailed to an address outside of the United States, it may take an additional 4-6 weeks for delivery. Students who wish to pick up their diploma need to enter the Registrar's address on the application: Office of the University Registrar, PO Box 6878, Morgantown, WV 26506
Questions?
Contact Leah Adkins or the Office of University Events at graduation@mail.wvu.edu.