May 2023 Commencement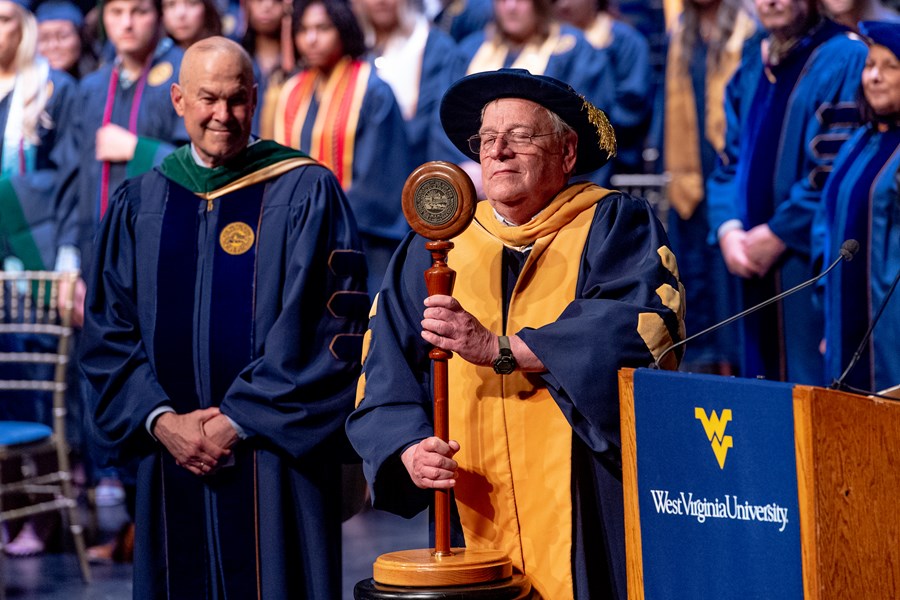 May Graduation 
West Virginia University's May 2023 graduates will be honored during Commencement weekend, May 12-14. 
The WVU School of Public Health (SPH) commencement ceremony will be held:
Class of 2023 graduates and SPH faculty/staff who completed the online registration form (deadline was 4/28) will be able to participate in the Commencement Ceremony. If you have questions, please contact Leah Adkins.
The full university commencement schedule and additional details can be found here. 
Regalia
Caps and gowns will be required and can be purchased online from Herff Jones or in person from any WVU Bookstore. 
Reminders about regalia/tassle colors: 
BS, Health Services Management & Leadership: forest green
BS, Public Health: salmon
MHA: forest green
MPH (Biostatistics, Epidemiology, Health Policy, Occupational & Environmental Health Sciences, Social & Behavioral Sciences): salmon
MS (Biostatistics, Industrial Hygiene, and Population Health): golden yellow
PhD, Public Health Sciences (Epidemiology, Occupational & Environmental Health Sciences, Social & Behavioral Sciences): dark blue 
For an at a glance reference, download this image.
Important information to know before the ceremony
All participating students must arrive at 3:00 p.m. with full regalia. Upon entering the main entrance, proceed to the right towards the Gladys Davis Theatre. (There will be signs and volunteers to help guide you.) There will be no graduation practice, so it is essential that you arrive on time to receive instruction for the ceremony itself.
Additional need-to-know details: 
There are no areas available for coats, purses, etc. to be stored during the ceremony, as the theatre will immediately be in use for the graduation ceremony following the School of Public Health's. These items must be kept with family members or in your car. 
Clear Bag Policy will be in effect for all in attendance.

 

Purses, backpacks, etc. cannot be brought into the venue.
The ceremony will last approximately two (2) hours. Appropriate, comfortable footwear is highly recommended.

There is ample parking at the Canady Creative Arts Center (CAC) for graduates, family and guests.

Doors will open to family and friends at approximately 3:30 p.m. Tickets are not required.

The CAC has Accessibility Parking out front from the Main Entrance and Accessibility Seating is available within the theatre.

Tickets are not required for the ceremony. 
Procedure for Graduates
 Graduates will be called up by college to walk up on stage as their name is read to receive their diploma cover and have a photo taken on stage and again before heading back to their seat. 

Masks are not required on WVU campuses but are always welcome. Hand sanitizer will be available throughout the concourse.
All graduates who have earned hoods will be hooded. Hoods will be carried in, draped over the left arm. Hooders should process in and sit with the graduate they are hooding. Faculty are required to wear regalia to participate.

Graduates and guests will be dismissed at the same time.
Applying for May 2023 Graduation
Students must apply during the term they intend to graduate. Please know the application deadline has passed (March 10). 
Questions?
Contact Leah Adkins or the Office of University Events at graduation@mail.wvu.edu.