Student gains experience at vaccine development lab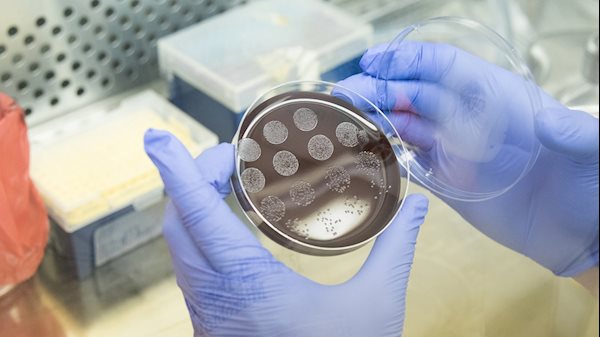 As the number of individuals in the United States who are fully vaccinated against COVID-19 reached nearly 50 percent, a West Virginia University School of Public Health student was getting a behind the scenes look at vaccine development.
Ryan Titus, a senior enrolled in the B.S. in Public Health program, had the opportunity to join Novavax Inc. throughout the summer as an environmental health and safety intern. The Maryland-based biotechnology company aims to make a contribution to public health worldwide through its innovative vaccines to prevent infectious diseases, including COVID-19, seasonal influenza, RSV, Ebola, MERS and SARS.
"Novavax is a really cool company that's trying to make a positive change in the world in response to one of the greatest public health issues in a century," Titus said of wanting to work with the organization. In addition to his career interests in industrial hygiene, he also stated, "in hindsight, the most interesting part was getting to work in vaccine research/development labs and meet the people who create vaccines."
Much of Titus's internship focused on particularly hazardous substance (PHS) use in research and development laboratories. PHS chemicals are those that pose a high risk to employees in the workplace – select carcinogens, reproductive toxins and chemicals that have a high degree of acute toxicity. Working alongside a Certified Industrial Hygienist, Titus collected information that was used to inform the Environmental Health and Safety Team and affected vaccine development personnel. The team was then able to assess the greatest PHS-related risks throughout the process.
After extending his internship for an additional week, Titus was able gain further hands-on experience with the assistance of a Certified Industrial Hygienist mentor. His final assignment involved collecting air samples in a laboratory where a scientist performed an assay that included the use of a PHS.
Titus also collected chemical inventory information from all Novavax laboratories throughout his experience for submission to the Montgomery County Office of Emergency Management and Homeland Security as part of federal regulations.
The combination of hard science and public health is what drew Titus to this internship, and he plans to continue on that path following the completion of his undergraduate degree. After graduation, Titus hopes to earn a master's degree in industrial hygiene.
Pictured above: viral plaques observation in research laboratory (WVU Photo)
---
-WVU-
jw/08/24/21
CONTACT: Nikky Luna, Director of Marketing and Communications
WVU School of Public Health
304.293.1699