Graduate Spotlight: Patient navigator connects passion to purpose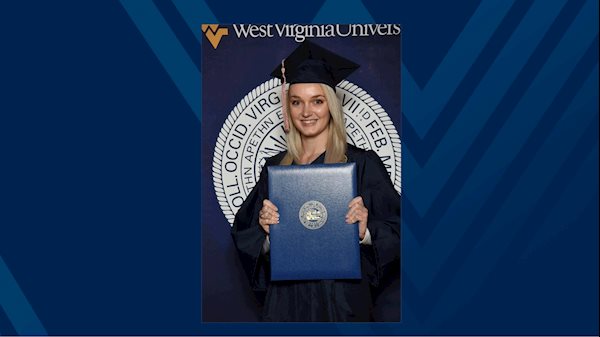 Of all the lessons Jamie Long learned throughout her college career, one rises to the top: "People need help."
As a recent graduate of the West Virginia University School of Public Health whose area of emphasis was patient navigation, Long often found herself on the "giving side" of help – a place she loved to be. Yet, a life-changing event leading into her final semester turned the tables, placing her on the receiving end.
"On August 10, 2019, I had a stroke," she said. "I went to Moonrise Music Festival in Laurel, Maryland, and I woke up in the morning and couldn't communicate. I couldn't talk, and I tried grabbing my phone behind me, but my right arm just wasn't moving."
At first, the 22-year-old thought it was simply sleep paralysis, but after continuing to struggle, she and her boyfriend knew she needed to go the hospital. After an MRI revealed a clot in her brain, Long was treated with "clot-busting" tissue plasminogen activator (tPA), a protein involved in the breakdown of blood clots, before being transferred to the University of Maryland Medical Center for additional treatment.
"I woke up on an operating table and saw an image of my brain on a screen with doctors all around me," Long recalled. "They got the clot out using a catheter … and I woke up, and my nurse, Chris, asked if could talk, and I could only make sounds. I remember being able to think of my words the entire time, I just couldn't get them out."
Over the next several days, Long focused on relearning fundamental skills like walking, talking and writing. Her efforts paid off. Just one week after suffering a stroke, Long was ready to return to Morgantown for her final semester, making it back in time for the first day of classes.
"The doctors in the hospital actually told me I couldn't graduate this semester," she said, "but I basically said, 'I'm going to do this.'"
Motivating factors – an "extended family" and a unique, hands-on experience
In addition to her immediate support system – her mom, dad, brother and boyfriend, who Long says were a constant source of encouragement – she credits several people in the School of Public Health for keeping her motivated.
"My professors and the staff in the School of Public Health were very understanding, recognizing that I would have boundaries as I continued to recover," she said. "And Audra Hamrick, Toni Morris and Dean Hunt, as a team, were amazing. They encouraged me to keep going, allowing me to just pop in their office and talk about anything. They made me feel important – like a part of the family."
Another motivating factor for Long was to continue her internship, which provided unique, hands-on experience in a field she is passionate about.
"When I transferred to WVU two-and-a-half years ago, I found public health and the area of emphasis in patient navigation," said the Inwood, W.Va., native. "That really gave me the opportunity to work with patients one-on-one and help them through the healthcare system."
Long's internship – the first of its kind at WVU – was with the WVU Department of Medicine's Transition of Care program, which focuses on safe care transitions for patients from the hospital to other care settings.
"Jamie was able to help serve the patient population who had complex follow up needs by coordinating their appointments," said Dawn Martin, transitional care coordinator who supervised Long. "As a member of the WVU Department of Medicine transitions team, we understand that safe care transitions are essential to providing high-quality patient care, and Jamie quickly became a valuable member of the transitions team."
With plans for the internship program to continue, Martin acknowledges the value the position adds to the team.
"We plan to continue to work with the School of Public Health patient navigation program," she said. "Even as patient navigation and care coordination continue to evolve, one thing stood out to me – that having a patient navigator can make all the difference in the world in helping a patient overcome barriers to hospital follow-up."
Connecting passion with purpose
For Long, whose passion for helping others dates back to childhood when she would help her "Granny" around the house, it was no surprise to her that her internship – and public health, in general – was a perfect fit.
"I've always just wanted to make sure everyone's healthy, happy and safe," she said.
"As I learned about public health – which was something I'd not heard of until coming to WVU – I thought 'this is awesome. They do so many great things.'
"From prevention of diseases to promoting safety in communities to helping people be the healthiest they can be – the program was so broad, with lots of different opportunities, and that drew me in."
But, it was her needing and receiving extra support while simultaneously extending help to others that helped her fully recognize how significant her role could be as a public health professional and, specifically, a patient navigator.
"My experience in my final semester really opened my eyes that everybody needs someone, and people need help – especially with the healthcare system."
-WVU-
nl/01/03/20
---
CONTACT: Nikky Luna, WVU School of Public Health Director of Marketing and Communications; 304.293.1699, Nikky.Luna@hsc.wvu.edu