High-achieving Public Health students, faculty recognized during awards and honorary induction ceremony
State Health Officer, honorary society inductee, encourages students to 'stay in West Virginia'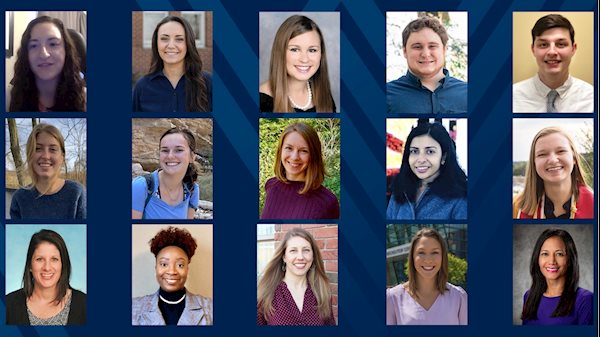 Students, faculty, a community partner and West Virginia's State Health Officer were all honored during the West Virginia University School of Public Health's annual Graduate Awards and Delta Omega Induction Ceremony on Thursday, April 29, held via Zoom.
"We've got a lot to celebrate," School of Public Health Dean Jeff Coben, MD, said as he welcomed attendees. "I congratulate each and every one of the recipients of these awards … and thank all of the faculty for their guidance and mentorship of our students, as well as our community partners and others who will be recognized."
The ceremony began with the induction of three new members into the Gamma Mu Chapter of the Delta Omega Honorary Society:
Shannon Barth, Ph.D., Class of 2020
Kassidy Hays, graduate student, Class of 2021
Ayne Amjad, MD, MPH, Commissioner for the West Virginia Department of Health and Human Services and State Health Officer, Honorary inductee
Assistant Professor Elizabeth Claydon, faculty advisor for the Gamma Mu Chapter, first recognized Dr. Amjad as Delta Omega's 2021 Honorary Inductee.
"Throughout her career, she has focused on advocating for health equity and public health practice, specifically to help West Virginians," Claydon said. "Dr. Amjad was chosen as our 2021 Honorary Inductee due to her considerable public efforts to improve the health of our state and beyond."
Amjad, a Beckley native who earned her Master of Public Health from WVU, encouraged students to stay in the Mountain State, a place for which she holds deep affection.
"I do have a really big heart for West Virginia," she said, as she also acknowleded Dr. Coben's support of the state's Joint Interagency Task Force efforts and commended WVU's "great team." To the soon-to-be-graduates, she said, "I hope a lot of you stay in West Virginia. … We'd love to have you."
Director of Career Development and Student Success Scot McIntosh, advisor for the Student Association of Public Health, recognized and thanked the SAPH leadership team – who then honored two outstanding faculty members with recognitions that were first awarded in 2019 in a joint effort between SAPH and the School's Office of Academic, Student and Faculty Affairs.
The 2020-2021 SAPH Leadership Team:
Harry Russell, president
Lakin Davis, vice president
Varsha Rajkumar, treasurer
Ryan Titus, secretary
Cassie Bambrick, communications/social media liaison
The faculty award recipients, selected by the student body, were:
Director of Public Health Practice and Service Learning Audra Hamrick presented the Outstanding Community Partner Award to the Monongalia County Health Department, to whom she referred as an "academic health department" to the fullest extent, providing our students with excellent hands-on learning opportunities while going above and beyond to protect our community, prevent disease and promote healthy living.
To conclude the ceremony, McIntosh recognized the following students with academic awards:
Talia Alexander, Promising Public Health Investigator Award
Kyli Smith, Junior Public Health Investigator Award
Sarah Sisson, Promising Public Health Practitioner Award
Colton Young, Junior Promising Public Health Practitioner Award
Aidan Davis, Junior Pioneering Spirit Award
Visakha Turner, Outstanding BSPH Student Award
Samantha Wilson, Ruth E. Kershner Community Service Award
Molly Penzenik, Biostatistics Departmental Award
Shabnam Tiwari, Epidemiology Departmental Award
Erin Bradley, Health Policy, Management and Leadership Departmental Award
Kimeran Evans, Occupational and Environmental Health Sciences Departmental Award
Damaris Bell, Social and Behavioral Sciences Departmental Award
Watch the virtual ceremony below or by visiting the School of Public Health YouTube channel..
---
-WVU-
nl/05/04/21
CONTACT: Nikky Luna, Director of Marketing and Communications
WVU School of Public Health
304.293.1699