WVU Public Health Commencement features nationally known fire chief fighting opioid epidemic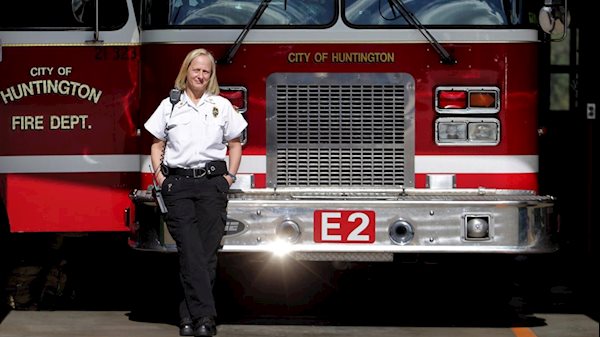 Known across the country for her pioneering efforts in fighting the opioid epidemic, Huntington fire chief Jan Rader delivered the keynote address at the WVU School of Public Health's commencement ceremony on May 10, 2019.
Named in 2018 as one of TIME magazine's 100 most influential people in the world, Rader has traveled the country advocating for drug recovery while also leading the fire department of a town with some of the highest rates of overdose deaths in recent years.
Rader joined the Huntington Fire Department in 1994 and became the first woman to reach the rank of chief in the state. Since November 2014, she has served as a member of the Mayor's Office of Drug Control Policy, a task force aimed at addressing drug addiction in Huntington and the surrounding communities through a holistic approach involving prevention, treatment and law enforcement.
"When we say 'Mountaineers, go first,' an image of Jan Rader should come to mind," said Jeffrey Coben, dean of the School of Public Health. "Chief Rader has been a pioneer throughout her career, and she continues to lead with vision, empathy and determination. We are thrilled to have her provide the 2019 commencement address for the School of Public Health."
Rader recently came to national prominence after the release of the Emmy-winning Netflix documentary "Heroin(e)" in September 2017, followed by her nomination to TIME's 100 list by Senator Joe Manchin (D-WV). In November 2018, Rader presented Huntington's revamped approach to the epidemic at the annual TEDWomen conference.
"If every city had a chief like Jan Rader, our country would be a better place."
- Sen. Manchin in his TIME nomination about Rader
Rader holds a Regents Bachelor of Arts degree from Marshall University and an Associate's Degree of Science in nursing from Ohio University, along with many fire service certifications She is also a fire and EMS instructor in the state of West Virginia.
CONTACT: Kimberly Becker
WVU School of Public Health
304.293.1699; Kimberly.Becker@hsc.wvu.edu