WVU School of Public Health supports new Preston County COPD clinic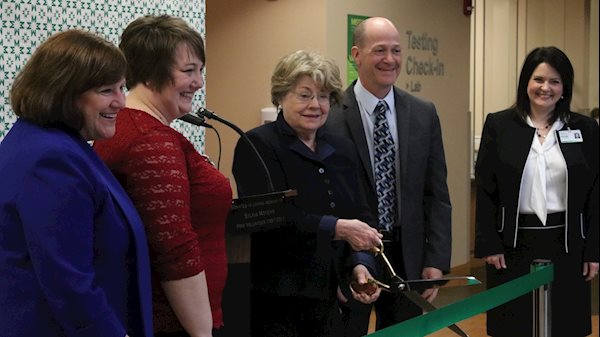 A new pulmonary rehabilitation clinic has opened at Preston Memorial Hospital in Kingwood, WV, and a donor fund in the WVU School of Public Health is providing support.
Guests gathered at Preston Memorial on Thursday, April 11, for the dedication of the new Grace Anne Dorney Pulmonary Rehabilitation Center. The Center offers specialized programs consisting of exercise, education and support for patients suffering from pulmonary diseases.
Funding for the Center was provided by the Claude Worthington Benedum Foundation, the Dorney Koppel Foundation and the WVU School of Public Health's Caroline Haase Trust. The Caroline Haase Trust supports organizations in Preston County that provide services to senior citizens and is administered by the WVU Foundation.
The ribbon cutting ceremony featured Preston Memorial president and CEO Melissa Lockwood, Claude Worthington Benedum Foundation program director Kim Tieman, and Grace Anne Dorney of the Dorney Koppel Foundation.
The center was named in honor of Grace Anne Dorney Koppel, an advocate for Chronic Obstructive Pulmonary Disease (COPD) awareness. Dorney is president of the Dorney Koppel Foundation, an organization committed to providing funds for the establishment of pulmonary rehabilitation facilities.
Lockwood recognized Dr. Allison Cihla, Medical Director of Pulmonary Rehabilitation at Preston Memorial and her vision to offer local rehab services to patients suffering from chronic pulmonary diseases.
"Because of the funds from our generous donors, Preston Memorial Hospital is able to provide this invaluable service to our community," Cihla said. "In rural communities, the impact of bringing life-restoring programs like pulmonary rehabilitation is immeasurable."
To learn more about the Grace Anne Dorney Pulmonary Rehabilitation Center at Preston Memorial Hospital, call 304-329-3429 or visit prestonmemorial.org.
Read the official story from Preston Memorial Hospital.
*******************
Contact:
Kimberly Becker, Director of Marketing and Communications
WVU School of Public Health
304.293.1699; Kimberly.Becker@hsc.wvu.edu