Dean's Colloquium Series
The WVU School of Public Health's Dean's Colloquium Series features discussions throughout the academic year highlighting current issues and topics in public health. All events are free and open to the public.
Upcoming Events
Harm Reduction and Syringe Services Programs: 
Public Health, Law Enforcement and Local Perspectives
Thursday, January 10, 2019    |    11:00 am - 1:00 pm    |    1905 HSC-North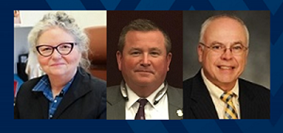 Three experts will discuss the ongoing opioid crisis and approaches to combatting epidemics related to intravenous substance use. The panelists will provide multiple perspectives – medical, law enforcement and community impact – about harm reduction initiatives and, specifically, syringe services programs.  
Panelists include NYU Professor Holly Hagan, PhD, MPH; North Carolina Investigator Donnie Varnell; and WVU Health Sciences Center Associate Vice President William Ramsey, MD.
*Live webcast at www.hsc.wvu.edu/webcast.
Past Speakers
Perspectives on the U.S. Opioid Epidemic
Dr. John Howard
Director, National Institute for Occupational Safety and Health (NIOSH)
Monday, October 15, 2018    |    1:00 pm    |    1909 HSC-North
*A recording of the webcast is available on YouTube.


Framing the Future: Transforming Public Health Curricula to Improve Health
Dr. Donna Petersen
Chair, Association of Schools and Programs of Public Health
Friday, September 7, 2018    |    10:00 – 11:30 am    |    Okey Patteson Auditorium (1175 HSC-N)
*A recording of the webcast is available on YouTube. 
Elder Abuse and the Public's Health
Dr. Pamela B. Teaster
Fellow of the Gerontological Society of America and the Association for Gerontology in Higher Education