WVU School of Public Health to host 'Total Worker Health' experts for speaker series
Friday, Dec. 2, noon to 1 p.m. | Hostler Auditorium (G17, HSC-North), WVU Health Sciences Campus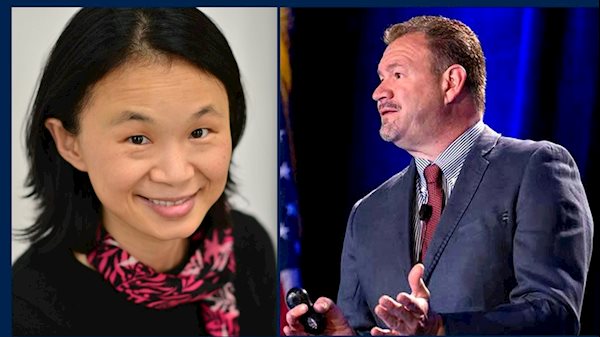 Understanding how work affects an individual's health and well-being is key to advancing worker safety and overall health. To broaden that understanding, West Virginia University's School of Public Health will feature two experts from the CDC National Institute for Occupational Safety and Health's Office for Total Worker Health® as it continues its 2022-2023 Dean's Colloquium Series.
Chia-Chia Chang, MBA, MPH, and Casey Chosewood, MD, MPH, will present "Total Worker Health Strategies for the Future of Work," sharing insights into TWH and Healthy Work Design approaches in the workplace.
The event will be held Friday, Dec. 2, from noon to 1 p.m. ET in the Hostler Auditorium (room G17 HSC-North) on the WVU Health Sciences Campus. Opportunities for audience Q&A will following the presentation. The event is free and open to the public. For those who cannot attend in person, a live webcast option via Zoom will be made available; register for the webcast here or on the Dean's Colloquium webpage.
"In public health, our efforts are focused on prevention and ensuring that every individual has access to the resources necessary to maintain good health," said Jeff Coben, dean of the School of Public Health. "Given that individuals spend a significant portion of their lifetime working, it's important to have conversations about what it looks like to promote health and well-being while at work."
Chang is a coordinator for NIOSH Total Worker Health and Healthy Work Design and Well-Being Cross-Sector Program. She leads collaborations to share research and identify promising practices for advancing worker safety, health, and well-being, and guided the development of a worker well-being framework and the NIOSH Worker Well-Being Questionnaire.
Dr. Chosewood, director of the Office for Total Worker Health and associate director for strategic initiatives at NIOSH, promotes the protection and improvement of the safety, health and well-being of workers through research, intervention development and partnerships. Since 2018, he has also coordinated NIOSH's work addressing the nation's drug overdose epidemic and its broader mental health crisis. Additionally, Chosewood co-leads the NIOSH cross-sector dedicated to Healthy Work Design and Wellbeing.
"Having Dr. Chosewood and Ms. Chang as our featured guest speakers highlights our school's ongoing collaboration with CDC-NIOSH," said Erik Carlton, DrPH, senior associate dean for academic and student affairs. "We're fortunate to have a regional NIOSH office on our campus, which is one of the most unique features of the WVU School of Public Health.
"We look forward to the many ways this presentation will specifically help us push forward as leaders in worker health science and practice."
Download a copy of the event flyer here. For more information about the WVU School of Public Health Dean's Colloquium Series, visit publichealth.wvu.edu/about/deans-colloquium-series.
Pictured above: Chia-Chia Chang, MBA, MPH, and Casey Chosewood, MD, MPH (Submitted)
Note: Story was updated on 12/1 with a new event location: Room G17 HSC-North (Hostler Auditorium) on the WVU Health Sciences Campus.
---
-WVU-
CONTACT: Nikky Luna, Director of Marketing and Communications
WVU School of Public Health
304.293.1699