From pathway to purpose: Pursuing a higher degree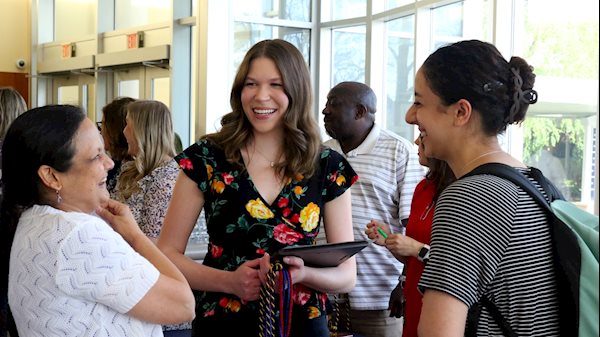 While public health wasn't the original field Lydia Ferrell planned on studying when she arrived on West Virginia University's campus, it was the one that ended up piquing—and capturing—her interest and enthusiasm. When she crosses the stage at Commencement on Friday, May 12, she will be walking away with her B.S. in Health Services Management and Leadership and years of fond memories.
"I always knew that I was interested in health and wanted to do work that would help people," she said. "The more I talked to people that worked at the School of Public Health, the more they convinced me that trying it was worth it. And it was."
Through her time at the WVU School of Public Health, Lydia had the opportunity to apply what she was learning in the classroom during her internship with the Mon Health Medical Center, where she worked in the Quality Department.
"I did a lot of my focus on the patient safety, specifically fall prevention and infection prevention. I did audits, made sure that bed alarms were working for fall patients and that people were washing their hands before going into rooms," she said.
During her undergraduate experience, she found that she wanted to pursue health administration as a career and will be continuing her studies in the WVU School of Public Health Master of Health Administration program.
"The Health Services Management and Leadership program started as a pathway into studying health administration," she said. "I'm also so comfortable with the professors and everything here. So, I knew I wanted to continue my education with them."
Learn more about Lydia by visiting her profile and watching the video below.
Pictured at top: Lydia Ferrell (center) chats with Assistant Professor Ruchi Bhandari (left) and fellow Class of 2023 student, Jenna Kahwash, following the School of Public Health's annual Year-End Celebration held on April 20. (WVU Photo/Kayla Gagnon)
---
-WVU-
CONTACT: Nikky Luna, Director of Marketing and Communications
WVU School of Public Health
304.293.1699; nikky.luna@hsc.wvu.edu