Learning to ask the right questions
Program evaluation course gives students hands-on training while supporting community partners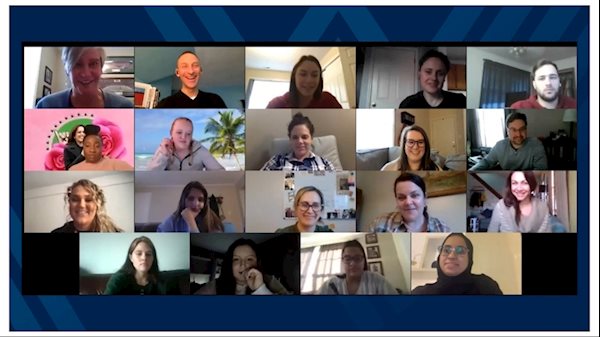 Local nonprofits gained a fresh perspective thanks to students in West Virginia University's Master of Public Health and PhD in Public Health Sciences programs.
Every year, Christiaan Abildso pairs students in his Program Evaluation in Public Health course with a community-based organization, or community partner. The goal is two-fold: give students firsthand experience in assessing the effectiveness of public health programs while equipping the organization with a tool to which they typically don't have access – an actionable evaluation plan.
"In the world of public health, we talk about evidence-based programming and implementing the things we know will work," Abildso said. "I have students work with community partners to help them figure out how to ask and answer the right questions to learn if the organization's programming, policies, health interventions, and/or whatever initiative they're thinking about are working. And, if so, why; and if not, why not? We usually work with nonprofits or other small groups that don't have the resources for this type of evaluation work."
The course looked a little different this year – and not just because the work was being done remotely in adherence to Return to Campus guidelines (which have since been updated). This particular cohort was the largest Abildso had ever had since taking over the course nearly eight years ago, which meant working with more than one community partner, as done in previous semesters.
With eight master's-level students and ten doctoral students, it made better sense to divide them into four groups, maximizing their hands-on training experience by pairing each group with its own community partner. This year's partners: the West Virginia Land Trust; the Wellness Center at Berkeley Medical Center; the Vaccine Impact Program; and Milan Puskar Health Right.
"This was a really good learning opportunity for us," said Brenna Kirk, doctoral student with a concentration in social and behavioral sciences and team member of the group working with the West Virginia Land Trust. "Being in public health, we all have this baseline understanding of what our field looks like and what is typical of a health intervention, whereas with a land trust, that's not their typical scope of work; they're more in conservation and things of that nature."
The WVLT, led by Executive Director Brent Bailey, charged Kirk's group with developing an implementation and evaluation plan for a nature prescription program. Such programs, which typically involve a healthcare provider, have recently emerged to address chronic disease and sedentary lifestyles.
"The health-nature connection is not something new," Bailey said. "People and nature are, well, naturally, a good fit! And that connection has been clearly documented by researchers over the past couple of decades. But like a lot of good ideas, the application of that knowledge to accomplish practical outcomes has not spread as fast as it should."
Kirk said her and her group's expectations of what program evaluation would involve were challenged – but in a good way.
"In the case of the West Virginia Land Trust, their program was in the very early stages," she explained. "They needed help with developing ideas for what the nature prescription program would look like. So, starting from scratch and developing the program, then trying to develop the evaluation plan for it, really gave us insights that we wouldn't have gained otherwise."
Kirk and her team found other nature prescription programs they were able to use as a starting point but adapt to West Virginia's unique needs.
"I hope they will be able to collect data for the measures that we've established to not only implement the program but also be able to see the short- and long-term impact of it once the program is up and running," Kirk said.
According to Bailey, her hope will likely become reality.
"The class project helped the Land Trust understand the potential and opportunities for developing a nature prescription program," Bailey said. "Armed with a 'road map' for developing and implementing a nature prescription program, the Land Trust is taking a look at which of our preserves would be most suitable for a pilot project and what sources of start-up funding could support it.
"I'm very enthused about the possibilities that exist for us to apply this knowledge to the health needs of communities in West Virginia."
Dana DeJarnett, health promotion coordinator for WVU Medicine Berkeley Medical Center and Jefferson Medical Center, said the students helped her see things in a different light. Her group developed an evaluation plan for the Women's Health Initiative Network, a new program aimed at decreasing incidence and mortality of breast and cervical cancer.
"It was helpful to see things from a different perspective and was good to have outside observers look at things with an unbiased view and offer input on improvements," DeJarnett said. "With WHIN being a new group, the tools they provided will be useful as we start to form our mission. I can also use them with other coalitions I work with."
For Kirk, the course equipped her with useful tools, as well, and reinforced a sense of purpose in her work.
"I think this course was well-designed because it builds in that hands-on experience," Kirk said. "We were given the opportunity to not only learn about the concepts being discussed but also give it a try – to practice the skills we'll need in a professional or academic setting. At the same time, it was rewarding to work on a project that will hopefully be used in the real world by our community partners, resulting in meaningful impact right here in West Virginia."
Pictured at top: Christiaan Abildso (top row, second from left) and the 18 students enrolled in PUBH 613/763, Program Evaluation in Public Health, meet via Zoom during spring 2021 semester.
---
'Leveling up' with Brenna Kirk
In the interview audio excerpts below, Kirk shares her definition of program evaluation and how some unexpected lessons will serve her well as a public health practitioner.
Having a role in the early stages, even though challenging, did add another level – not only as an experience for us as students, learning about the process and what happens in the real world – but also utilizing the skills we have developed in our intervention design classes and seeing how they connect really well with the evaluation component of it.

-WVU-
---
nl/06/23/21
CONTACT: Nikky Luna, Director of Marketing and Communications
WVU School of Public Health
304.293.1699