Public Health, Cancer Institute researcher appointed to WHO Development Group to advance rehabilitation as a priority health strategy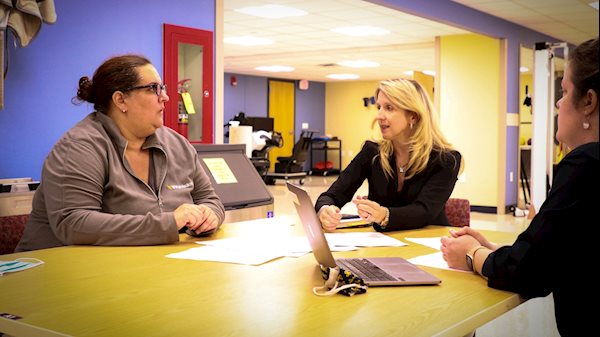 With an increase in the number of people living with chronic disease, the World Health Organization has identified rehabilitation as a priority healthy strategy for the 21st century and, to help lead that strategy, a West Virginia University researcher.
Nicole Stout, research assistant professor with the WVU School of Public Health and WVU Cancer Institute, has been appointed to a WHO Development Group on the topic of cancer rehabilitation. This comes on the heels of Stout co-leading the WHO Technical Working Group on Cancer Rehabilitation, whose findings were published last fall in CA: A Cancer Journal for Clinicians.
Their comprehensive systematic review of cancer exercise and rehabilitation guidelines, which identified a strong evidence base for rehabilitation but revealed a disconnect between the guidelines and what many doctors do, provides a launching point for the work that's yet to come.
"The goal of this larger, international Development Group marks an important milestone in the process as we now work on leveraging our findings to develop – what the World Health Organization refers to as – a Package of Rehabilitation Interventions," Stout said. "Essentially, the PRI is a toolkit that will identify guidelines concordant with evidence-based rehabilitation care interventions for individuals with cancer."
Once developed, the PRI will be available as an open-access online resource serving a wide range of target audiences, from Ministries of Health and service providers to researchers and academics.
"Our hope is for it to be used internationally to enhance the integration of rehabilitation with cancer care and to improve functional outcomes for individuals living with and beyond cancer," Stout said.
And, as Stout points out, fulfilling that hope would translate to healthier communities across the globe.
"From a public health perspective, the WHO emphasis on rehabilitation for chronic diseases, like cancer, will positively influence population health here in the U.S. and world-wide," she said. "We anticipate there will be nearly 27 million cancer survivors in the United States, alone, by 2040, most living with chronic conditions related to cancer treatments.
"This work will provide concise recommendations for evidence-based care and ultimately enable individuals with cancer to achieve better function in their communities and throughout their lives."
The WHO Development Group will begin its work in August with the expectation to conclude by spring 2022. This effort is part of the larger WHO Rehabilitation 2030 effort.
Pictured at top: Nicole Stout and WVU Physical Therapy colleagues Megan Burkhart and Renee Riffle McGinnis discuss a potential project for head and neck cancer patients. (WVU Photo/Lori Acciavatti)
---
-WVU-
nl/07/22/21
CONTACT: Nikky Luna
Director of Marketing and Communications
School of Public Health
304-293-1699
Call 1-855-WVU-NEWS for the latest West Virginia University news and information from WVUToday.
Follow @WVUToday on Twitter.