Connect with the Health Sciences community during WVU Week of Purpose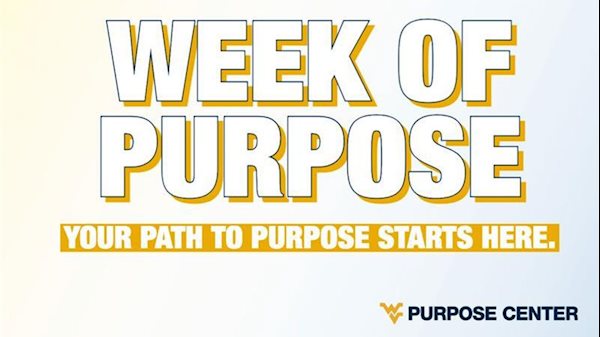 West Virginia University's inaugural Week of Purpose begins Sept. 18. Students, faculty and staff are invited to enjoy a variety of sessions and take this opportunity for self-exploration, learn a new perspective and engage with others as we begin this purposeful journey together.
Dr. Clay Marsh, chancellor and executive dean for WVU Health Sciences and chief health officer for WVU Medicine, will host an honest and engaging workshop on finding your "why" on Wednesday, Sept. 21 from noon - 1 p.m. at Evansdale Crossing's Media Innovation Center. A virtual option will also be available.
Based on Simon Sinek's "Start with Why," Dr. Marsh will share his key principles of purpose. Purpose dives deeper than mindsets—it taps into your core motivation for engagement, self-direction and choosing a path. It also explores the belief structure and understanding of why you want to do something and how it aligns with your values, unique talents, strengths and things you care about.
Dr. Marsh's presentation is the first in a series of seminars this fall designed to provide the Health Sciences community with a personal development toolkit that will enable them to navigate life, create purpose, make connections and to increase overall wellbeing. Additional seminars, "Resilience & Grit" with Sam Zizzi, Ed.D., and "Burnout & Loneliness" with William Tullock, M.D., are scheduled for Oct. 5, and Nov. 2, respectively. More details to be announced.
The many Week of Purpose events are open to the entire WVU campus community. Additional events will be held during the week on the Health Sciences Campus.
Monday, Sept. 19 – Thursday, Sept. 22
Throughout the week, "A Peace of My Mind" will be on display in the Health Sciences Center Pylons Commons. A multimedia arts project created by award-winning photographer John Noltner, the exhibit features portraits and personal stories from our Mountaineer community. The exhibit is accompanied by instructions for a self-guided exploration and is built around the question, "What impact have you had?"
Monday, Sept. 19
Join the Office of Research and Graduate Education for The Happiness Lab "Stepping off the Path of Anxiety" podcast listening event Monday, Sept. 19 from 4-4:50 p.m. in Erma Byrd Biomedical Research Center Room G01 and via Zoom. In this episode of the podcast, Laurie Santos, a professor of psychology and head of Silliman College at Yale University, speaks to psychotherapist and meditation teacher Andrea Wachter. Wachter spent much of her life being stalked by the physical and mental manifestations of anxiety — the brain fog and the pit of the stomach dread of something bad looming on the horizon. She's amassed a wealth of strategies to overcome the thoughts and sensations that make up anxiety and she explains them to Laurie Santos.
Tuesday, Sept. 20
Share how you've followed your purpose and made an impact by telling your story as part of the portrait gallery. On Tuesday, Sept. 20, from 10 a.m. to 2 p.m., award-winning photographer John Noltner will be in Pylons Commons to document the stories of our Health Sciences community members. Sessions will last less than 15 minutes and participants will receive a free digital copy of final project with their portrait and story, which will also be included in his presentation on Thursday, Sept. 22 at noon in the Gluck Theater. Sign up to share your story. Walk-ins will be welcome as time allows.
Students enrolled in Health Sciences academic programs are invited to a special equine therapy experience from 5-7 p.m. at On Eagles' Wings Therapeutic Horsemanship in Fairmont. Participants must provide their transportation. Registration is limited to 20 individuals. Register online.
Wednesday, Sept. 21
On Wednesday, Sept. 21, learn about the Japanese philosophy of ikigia, which means your 'reason for being.' 'Iki' in Japanese means 'life,' and 'gai' describes value or worth. Your ikigai is your life's purpose. The session will be hosted by Julie Brefczynski-Lewis, Ph.D., an assistant professor in the School of Medicine Department of Neuroscience and mindfulness guru. Julie will review key ikigai concepts and walk participants through the development of an ikigia diagram. One-hour sessions will be held at 2 p.m. and 4 p.m. in the Chancellor's Office Conference Room, HSC-South 1000. Maximum 20 participants per session. Register online.
Morgantown's BlissBlissBliss will host multiple opportunities to release stress during a series of yoga sessions and chair massages throughout the day on Wednesday, Sept. 21. 30-minute outdoor yoga sessions will be held under the tent on the lawn in front of the Health Sciences Center at 11 a.m., 11:45 a.m., 12:30 p.m., 1:30 p.m. and 2:15 p.m. Participants may bring their own yoga mat or use one that has been provided. Registration is encouraged, but walk-ins are welcome. Maximum 20 participants per session.
Chair massages will be available in the Health Sciences Center Pylons Commons from 11 a.m. to 4 p.m. There are significant health benefits to chair message, including reducing stress, increasing focus and lowering blood pressure. No registration required.
Geared toward students pursuing or interested in health and wellness careers, a panel discussion will take place at 4 p.m. in the Mountainlair Greenbrier Room. During the Q&A session, experts will discuss what it takes to care for patients, be a disease detective and help people stay healthy and well. They will share their journeys and answer questions from the audience. In addition, recruitment professionals from several schools and colleges will be on hand until 5 p.m. to provide specific information about WVU's health and wellness academic programs.
Thursday, Sept. 22
On Thursday, Sept. 22, drop by and meet "Stormy," one of the miniature horses from On Eagles' Wings Therapeutic Horsemanship, from 12-2 p.m. in the Pylons Commons. Mini Wings is a program that focuses on spreading awareness of the benefits of equine-assisted activities and therapies into the community using miniature horses. Stormy has successfully become a media darling and maintains a Facebook page called "Stories with Stormy" where she posts updates on a regular basis. No registration is needed to visit Stormy and to learn more about equine-assisted activities and therapies.
For the Week of Purpose full schedule of events, visit the Purpose Center website.