Meeting people where they are: Nurse works in rural communities making connections to improve health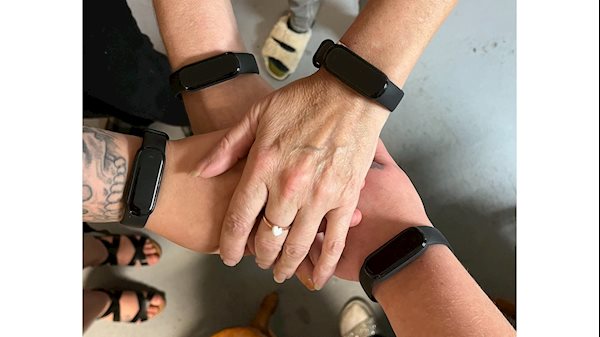 Community members display the fitness trackers that help them better manage their health.
As Stephanie Lusk was growing up, she always knew she wanted to help people. That drive first drew her to floor nursing, but now, she works as a West Virginia University Extension Family & Community Development Agent in McDowell and Wyoming counties, meeting people in their own communities to help improve health at home.
"When I got to college, nursing was what I interested in," said Lusk, who is currently enrolled in the WVU School of Nursing Master of Science in Nursing (MSN) program. "When I thought about my role models when I was younger, the strongest women I knew were nurses, and I love that caring is one of the most essential elements in being a nurse."
As a native of the Coalfields, she knew she wanted to stay close to home, so nursing felt like a perfect fit. After she got her nursing degree, she worked in Beckley as an oncology nurse for a couple years. After her time there, she decided she wanted to pursue a public health path as well.
"I had served as an AmeriCorps VISTA for the Upper Guyandotte watershed in Mullens. During that time, I gained experience in what community health means," Lusk shared. "I really thought it was important to look at health from a broader perspective, not just inside the walls of a hospital."
She graduated in 2012 from the WVU School of Public Health with her Master of Public Health and soon found a job with WVU Extension. At first, she hosted summer reading and food programs, but in the last few years she has moved into a more health-focused role.
"You don't have to be a nurse to teach health programming with Extension, but we have a lot of autonomy in choosing what we do in our communities," Lusk said.
Using her skillsets from nursing and public health, Lusk goes into McDowell and Wyoming county communities to host cooking lessons for folks with diabetes, arthritis-friendly activities for seniors, vaccine clinics that are close by, and so much more.
"My favorite part of my job is teaching classes in the community," Lusk said. "The best part is being out in the community – it's about teaching folks balance. We're not trying to suggest you do everything perfect for your health every day. Teaching them tiny things they can incorporate into their everyday lives over the long term makes a big difference."
Lusk has also connected with faith-based recovery homes in the two counties to support the women there. She has built rapport with them over time and now works with them on cooking and nutrition skills, physical activities, financial management and relationship building skills.
"I've been through several classes with them now and I enjoy watching them progress through their recovery," Lusk said. "We know substance misuse impacts our community greatly. When One Voice in Oceana first invited me to a class, we talked about how to break down stigma. I could see myself in these women. I saw how hard they were trying, and I wanted to do what I could to help."
Offering a judgement-free space is important to Lusk. She describes her approach as friendly and supportive: "I'm genuinely happy to see them. I try to be their role model and their cheerleader."
Lusk has also completed the Foundations of Faith Community Nursing, which is a course offered by the WVU School of Nursing to teach students how to improve health in faith communities.
No matter where people are — in schools, in community gathering spaces, or in recovery centers — that's where Lusk wants to be. Thanks to the Rusty and Kimberly Hutson Family Foundation's contribution to Faith Community Nursing initiatives, Lusk has been able to provide A1C tests for people with or at risk of diabetes, as well as fitness trackers to help people count their steps and monitor their heart rate.
"One of the things President Gee always says is that we export our talent from West Virginia," Lusk said. "But I know I want to stick around for the people here. It's important to me to use my degrees close to home."
For more information about community outreach in McDowell or Wyoming counties, please contact Stephanie Lusk at Stephanie.Lusk@mail.wvu.edu.
-WVU-