WVU School of Public Health to celebrate National Public Health Week, April 3-9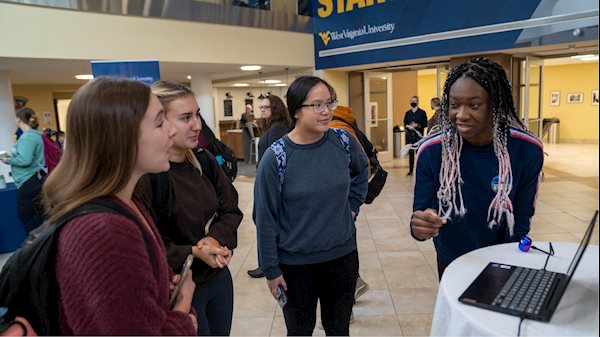 During the first full week of April each year, the American Public Health Association brings together communities across the United States to observe National Public Health Week as a time to recognize the contributions of public health and highlight issues that are important to improving our nation's health.
The West Virginia University School of Public Health, an APHA member, encourages everyone to participate throughout the week as the school recognizes its community partners and elevates important issues shaped by NPHW's daily themes, including: community; violence prevention; reproductive and sexual health; and mental health.
All events are free and open to the public, unless otherwise noted.
SCHEDULE OF EVENTS
Monday, April 3 | 9 a.m. to 11 a.m. EST | Community Resource Fair and Partner Recognition Event | Pylons Lobby and 1909 HSC-North, WVU Health Sciences Center
Community Partners play a crucial role in the School of Public Health, providing students with ample opportunities for hands-on learning. During this event, you'll get to meet many of the School's partners and learn about how they serve our community during the Community Resource Fair in the Pylons Lobby. Light refreshments will be provided.
At 10 a.m., the School will recognize its Community Partners during a brief program. The American Heart Association, one of the school's partners, will present a Hands-Only CPR training.
Tuesday, April 4 | 12 p.m. to 1 p.m. EST | Gun Violence Prevention Forum | 1909 HSC-North and via Zoom
Gun violence prevention experts Jeff Daniels, Greg Vecchi and Dan Semenza will discuss their proactive view of active killer threat management and resolution to prevent attacks before they occur, as well as broader mitigation strategies through the lens of public health. Interim Dean and Associate Professor Erik Carlton will moderate the forum. Learn more here and register to participate virtually here.
Wednesday, April 5 | 1 p.m. to 2 p.m. EST | Coffee, Consent, and Condoms: A Student-Facilitated Panel | 1909 HSC-North and via Zoom
Sarah Young, second-year Master of Public Health student, will moderate a panel with faculty from the Department of Social and Behavioral Sciences, Danielle Davidov and Toni Morris. Dr. Davidov's research involves qualitative and mixed methods to address intimate partner and sexual violence in underserved populations. Dr. Morris, a registered nurse and rehabilitation counselor, teaches undergraduate courses in disease, health of the individual, school health and human sexuality.
To submit your questions anonymously and in advance of the event, use this form. Learn more about the event here and register to particpate virtually here.
Thursday, April 6 | 10 a.m. to 3 p.m. | 2 p.m.-3 p.m. (Easy Flow Yoga) | Refresh & Recharge Mini Retreat | 3830 HSC-South and G119A HSC-North (Easy Flow Yoga session)
The School of Public Health Dean's Ambassadors are pleased to invite fellow SPH students to stop by the SPH computer lab (3830) to recharge and relax while enjoying some healthy refreshments.
From approximately 10 a.m. to noon, you can also enjoy the company of some of WVU's therapy dogs and, throughout the day, some surprise giveaways! At 2 p.m., meet on the ground floor in room G119A for some easy flow yoga with Korey from &Yoga.
Free and open to all School of Public Health students. No RSVP required. Learn more here.
Monday-Sunday, April 3-9 | Promote National Public Health Week on Social Media
Throughout the week, raise awareness and promote public health by using the official NPHW hashtag, #NPHW, in your social media posts and tagging the School of Public Health.
---
CONTACT: Nikky Luna, Director of Marketing and Communications
WVU School of Public Health
304.293.1699; nikky.luna@hsc.wvu.edu