WVU student wins "Do It For Babydog" scholarship sweepstakes, encourages vaccination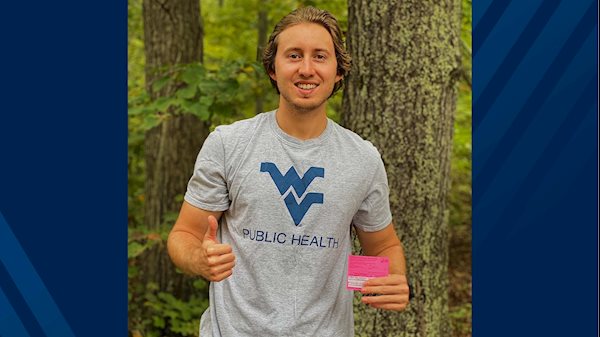 West Virginia University School of Public Health student Caden Staggers recently won a full four-year scholarship as part of Gov. Jim Justice's "Do It For Babydog: Round Two" COVID-19 vaccination sweepstakes.
Each winner received a full four-year scholarship to any public college or university in the state, including room and board, tuition and books – a prize valued at over $100,000.
"When I found out I won, I was getting ready to go to class," said Staggers, who is from Keyser, West Virginia. "I got a Facebook notification from a relative who tagged me in the governor's article where he posted the winners and I was so confused. I called my mom and said, 'Is this for real?' My phone immediately blew up within 10 minutes with people messaging and congratulating me."
After overcoming initial shock and confusion, Staggers finally began to celebrate, allowing his feelings of surprise and happiness surface.
Staggers chose to get the COVID-19 vaccine as soon as it became available to him. He knew the research showed that getting the vaccine would drastically stop the spread of COVID-19. He wanted to do his part to fight against the virus.
"Studies have shown that people are more motivated to do something when they feel like they are getting something in return," Staggers said. "I got the vaccine before I had even heard about the sweepstakes. However, being able to enter the drawings was a fun added bonus. I never dreamed I would actually win."
Vaccination advances the overall mission of public health because it stops the spread and increases our chances as a community to move past this pandemic, Staggers explained.
One of the first topics Staggers learned about in public health was herd immunity and how well it has worked for decades. Staggers said people should get vaccinated to help stop the spread and help everyone get back to normal life.
He further explained that getting the vaccine also helps to protect people and their loved ones, while increasing their chances of living a long and healthy life.
"Getting the vaccine is one of the most unselfish things you can do," Staggers said. "By not getting the vaccine, you are gambling with your life, your loved one's life and normal life as we used to know it.
"I understand having concerns towards a new vaccine; however, the alternative of not getting it should cause people to have the most fear and anxiety. The vaccine is now approved by the Food and Drug Administration and backed by research."
Staggers is a senior transfer student from Potomac State College, a branch of WVU. Staggers earned his associate degree of science before coming to WVU to earn his bachelor's degree.
Staggers has played sports, which led to having injuries. Because of this, he got to experience physical therapy from a patient view, which initially led to his interest in being a physical therapy assistant.
"However, WVU does not have a physical therapy assistant program and I wanted to get my bachelor's degree," Staggers said. "Through research and talking to my advisors, I was introduced to the public health major."
"I chose to pursue public health because it gives you so many options to specialize in helping people," Staggers said. "I have always known I wanted to work with people and help them improve their lives, whether that's through recovering from injuries, research or helping to prevent injury and illness. Public health is the perfect fit for me."
Upon graduating, Staggers plans to get his master's degree in public health at WVU. His professional interests and goals are health management and environmental health. Staggers explained how the School of Public Health has helped him get to that goal.
"I feel that the School of Public Health has helped to give me a strong foundation in a variety of public health areas," Staggers said. "The professors have been amazing and are accessible and willing to help. The School of Public Health has also shown me all the different opportunities the public health major offers professionally.
"Public health is more important now than ever. I feel that I now have the skills to make a difference in my community and state."
Staggers said choosing the WVU School of Public Health opens many different avenues of study while providing an environment conducive to each student's success.
"You get the small school classroom feeling at a big university and they have exceptional professors willing to help guide you in any way that they can," Staggers said. "It truly is a quality program."
---
-WVU-
sd/10/21/21
CONTACT: Nikky Luna, Director of Marketing and Communications
WVU School of Public Health
304.293.1699