Nicholas McCardle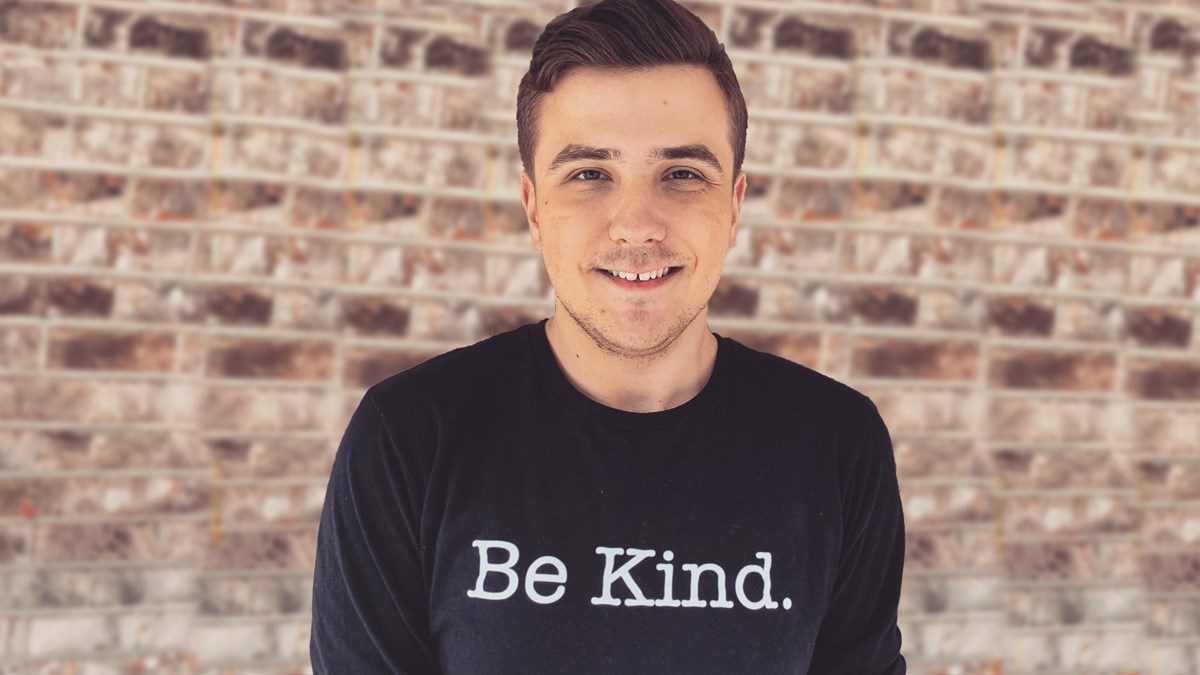 I always try to be mindful of the things that I do, the things that I say, because you never really know what someone else is going through. You might be the difference in their day.
Be Kind.
For Nicholas McCardle, that's not just a phrase on his T-shirt. It's a personal mantra, and a message that he's sharing with the world.
In September 2020, Lady Gaga released a book of inspirational stories featuring three chapters written by McCardle, just as he was starting a different type of chapter as a student in the new WVU School of Public Health Master of Health Administration program. In the book, "CHANNEL KINDNESS: Stories of Kindness and Community," McCardle's stories shine a light on expressing yourself, your feelings and your emotions through the art of creativity (titled The Art of Kindness), giving back to your community and empowering its youth (titled Go Girl, Go) and processing, coping with and overcoming loss and grief (titled Memories Can Sometimes Be the Best Medicine).
"Mental health is a recurring theme that readers will notice throughout the book," McCardle explained. "The stories also highlight the importance of not only advocating for mental health resources and education, but also breaking down the sigma surrounding it, as well. Each story brings a unique perspective on being kind and being brave enough to be kind to yourself and to others."
"CHANNEL KINDNESS is the embodiment of the everyday acts of kindness that uplift communities and instill a sense of hope in each of us. If these stories inspire one act of kindness, then we've accomplished our mission. We can't do it alone, and here is a book that shows we aren't," reads a statement by Lady Gaga included in the book.
McCardle initially got involved with Lady Gaga's Born This Way Foundation's digital platform that goes by the same name as the book, which is where he initially submitted stories as a kindness reporter. Since launching in 2017, ChannelKindness.org has been sharing messages from young people about spreading kindness, encouraging acceptance and elevating stories of good that happen in communities every day.
With a passion for writing and his involvement with various groups on campus as an undergraduate student – McCardle is a 2020 graduate of the WVU School of Medicine Health Informatics and Information Management program – he thought he could offer a unique perspective to the Channel Kindness platform.
He also says his own experience with depression and anxiety inspired him to get involved.
"I think that it's important for us to have open discussions about mental health because it's something that we all deal with," he said. "It wasn't until I learned how to talk about my feelings and my emotions…with other people and to seek out the help and resources that I needed, that I was able to finally get back up and find my purpose and really find my voice."
Now that he's found his voice, he wants to use it to advocate for others. Upon completion of the MHA program, McCardle hopes to work with healthcare organizations to ensure they're practicing proper mental health outreach programs, and make sure people have access to and are aware of various services.
"It [mental health] is something that sometimes we don't talk about because we don't know how to talk about it, maybe we're afraid or we're worried what other people think. So, the biggest thing for me is that I've tried to make myself open to talking to other people," he said of his desire to help others. "I always try to be mindful of the things that I do, the things that I say, because you never really know what someone else is going through. You might be the difference in their day."
Audio Clips