Commitment to scholarship, outreach and service earns WVU School of Public Health honorary society national recognition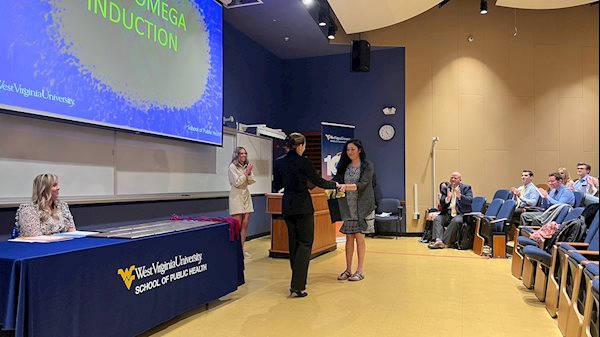 Gamma Mu, the West Virginia University chapter of the Delta Omega Honorary Society in Public Health, will be recognized as the runner-up for the 2023 Chapter of the Year Award at the annual Delta Omega meeting on Nov. 13 at the American Public Health Association Annual Meeting and Expo in Atlanta, Georgia.
The Gamma Mu chapter, established at WVU in 2012, has been recognized several times by the Delta Omega National Office and Executive Committee for its leadership and dedication to service in communities across West Virginia.
"The purpose of this honorary society is to connect and enhance student, alumni and faculty involvement in public health," said Elizabeth Claydon, Ph.D., faculty adviser for Gamma Mu and assistant professor in the School of Public Health. "Our Gamma Mu chapter has exemplified its mission through service, scholarship and outreach since 2012, providing our students with opportunities for research, leadership, community service and professional training. Students graduating as Delta Omega members have additional resources and experiences to prepare them as public health professionals."
The Gamma Mu leadership team for the 2022-23 academic year consisted of 11 students ranging from undergraduate students to doctoral candidates.
"The Gamma Mu leadership team has focused on offering a variety of opportunities for all students to get involved, no matter at which point they are in their academic journey," Haley Cothern, president of Gamma Mu and a student in the Master of Health Administration program, said. "Our annual Research Roundtable provides undergraduate students with the opportunity to learn about getting involved in research, whereas our virtual volunteer opportunities may be more convenient for doctoral candidates."
Throughout the year, Gamma Mu continued its commitment to scholarship through professional development opportunities including its annual Student Poster Contest and Research Roundtable to connect students with faculty mentors.
Community service activities also continued with in-person and virtual options for students to participate in efforts focused on public health issues prominent in West Virginia and the greater Morgantown area. Through chapter activities, students completed more than 1,600 hours of community service during the 2022-23 year. Activities included a rail trail cleanup, meal packaging, used book sale and Earth Day recycling events.
The chapter focused on diversity, equity and inclusion efforts through a variety of online workshops during the fall and spring semesters like LGBTQ+ and inclusive language training and racialized trauma educational training.
"This year we want to continue to offer both in-person and virtual opportunities for students to be involved with Gamma Mu," Cothern said. "Currently, we have a naloxone training that is completely virtual, and we are planning to sponsor a blood drive early next year with the American Red Cross that will require in-person volunteers. We are looking forward to another successful year."
About Delta Omega and the Gamma Mu Chapter
The Delta Omega Honorary Society in Public Health was founded in 1924 at Johns Hopkins University to promote the graduate study of public health, and to recognize outstanding achievement in the new field.
The Gamma Mu Chapter was founded in 2012 with its primary goals focused on service, scholarship and outreach. Aligned with the national organization's community-service centered mission, the Chapter channels much of its efforts into local organizations that benefit the greater Morgantown area, scholarship that helps advance WVU public health students in their academic and professional careers and outreach that engages its alumni members.
Learn more about becoming a member and connect with the Gamma Mu Chapter on Facebook and Instagram.
Photo at top: The Gamma Mu Chapter of the Delta Omega Honorary Society hosts its annual Research Roundtable event for undergraduate students to learn about getting involved in research. Photos submitted by Delta Omega Gamma Mu faculty adviser Elizabeth Claydon, Ph.D.
-WVU-
co/10/4/23