Graduating health administration students contribute to regional understanding of determinants of health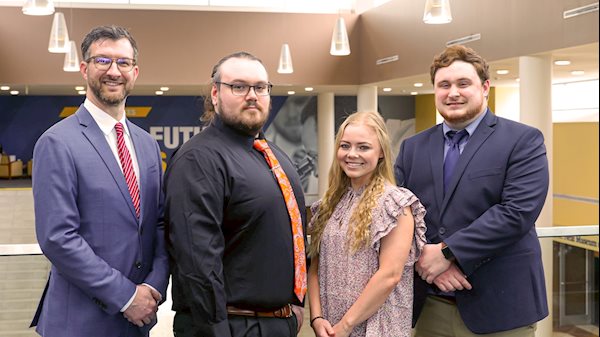 Members of the next generation of health administration professionals were given the opportunity to make an immediate impact in the local community—even before they crossed the Commencement stage.
West Virginia University School of Public Health Master of Health Administration students—now Class of 2023 graduates—Brandon Gregory, Madison Katz, Vincent Hornig and Colton Young were tasked with completing an analysis of services that addressed social determinants of health in the Wheeling Hospital market for their capstone project.
"Our analysis served to strengthen the foundation for Wheeling Hospital's eventual transition to value-based care and inform their Social Determinants of Health (SDOH) Task Force on the availability of existing resources," said Brandon Gregory.
The group utilized FindHelp, a website that offers an easy way for users to find social services and to connect to them directly and electronically. They used the data from the app to identify what social determinant of health needs are in highest demand in the Wheeling Hospital market. In rank order, these needs were housing, health, food and transportation.
In their research, the group found that FindHelp was a helpful tool, but ultimately underutilized in the Wheeling area. To remedy this, the group created a pamphlet to promote the FindHelp toolkit.
From this research and a strong understanding of the website, the group was able to make recommendations to bridge the gaps of community access to health needs to the SDOH and other officials from the Wheeling Hospital. Among the recommendations: expand social determinants of health screenings which will help to tailor clinical care and informs patients of organizations that provide support with their identified needs.
For Madison Katz, this project was not just a requirement for graduation, but an eye-opening experience that will help inform her in the rest of her career.
"We have learned so much about social determinants of health and the gaps patients in the Wheeling market are facing," Katz said. "This only motivates us to continue to enforce social determinants of health screenings in health systems and help close the gaps patients are facing."
Heidi Porter, the vice president of Quality and Regulatory Affairs for the WVU Medicine Wheeling Hospital praised the "above and beyond" efforts of this cohort.
"We didn't even ask for a brochure, [and now] there are so many internal and external requests to our Social Determinants of Health Task Force for the brochure," Porter said. "It has become a hot-ticket item."
All four Master of Health Administration students received their degrees at the May 2023 Commencement Ceremony and entering the next stage of their public health careers.
"As a collective, they are just a wonderful group of young people, and they have a very, very, very bright future," said Heidi Porter.
Learn more about their project by downloading the informational flyer.