Sitting or standing makes a difference in blood pressure reading, WVU study finds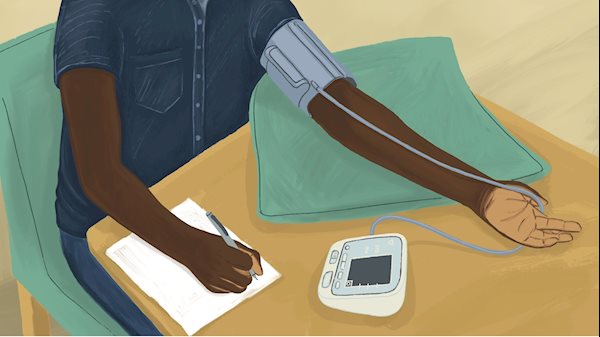 People using a prescribed take-home blood pressure monitor are likely to get an inaccurate high reading if they were standing or moving just prior to the measurement, according to a study led by a West Virginia University researcher.
"The potential implications of this finding are overdiagnosis of high blood pressure when ambulatory blood pressure monitoring is used in more active people," said Bethany Barone Gibbs, chair and associate professor in the WVU School of Public Health, Department of Epidemiology and Biostatistics.
Physicians sometimes send patients home with an ambulatory blood pressure monitor if they suspect high readings in the office are a result of nervousness – often called white coat hypertension – or if the patients describe symptoms of high blood pressure occurring only in the evenings. The idea is to gain a better understanding of readings throughout the day. However, since there are no guidelines for whether patients should be seated or standing for ambulatory monitoring, researchers wanted to examine effects of daily activities.
"I think we can get more precise and do a better job of understanding if we consider activity in the measurement for individuals with high blood pressure," said Barone Gibbs, who led the study.
Findings were published in the Journal of the American Heart Association.
Barone Gibbs said a new study was also needed since earlier research – outdated by more than a decade – used less rigorous measurement devices.
Participants in the current study were each fitted with a medical grade blood pressure monitor and a thigh-worn accelerometer to record standing or seated posture and movement in steps. Measurements were taken every 30 minutes after a five-minute interval of either activity or being seated. Those readings were compared to patients' mean daytime blood pressure.
"Long-term, I'd love to see accelerometers incorporated in ambulatory blood pressure monitor devices and incorporated into the output that clinicians are given to interpret," Barone Gibbs said.
Although study participants used research grade monitors, Barone Gibbs said findings can be applied to the use of other devices.
"Using an at-home personal blood pressure monitor with synchronization to a smart device is a great way to understand how your recent activity influences your blood pressure levels," she said.
Barone Gibbs said she plans to further the study to explore how the measurements that consider recent activity predict risk for high blood pressure and cardiovascular disease.
She points out that while participants recorded a lower blood pressure after being seated, an active lifestyle is recommended for lowering the numbers.
"For those looking to treat their blood pressure by being more active, a bout of exercise can lower blood pressure soon after and through the following day," she said. "This means that being active every day can let you keep your blood pressure down through these acute effects."
---
-WVU-
ls/9/20/23
MEDIA CONTACT:
Linda Skidmore
Health Research Writer
WVU Research Communications
linda.skidmore@hsc.wvu.edu
Jessica Wilmoth
Senior Communications Specialist
WVU Health Sciences
jessica.wilmoth@hsc.wvu.edu