WVU School of Public Health graduates encouraged to collaborate, be 'your neighbor's keeper'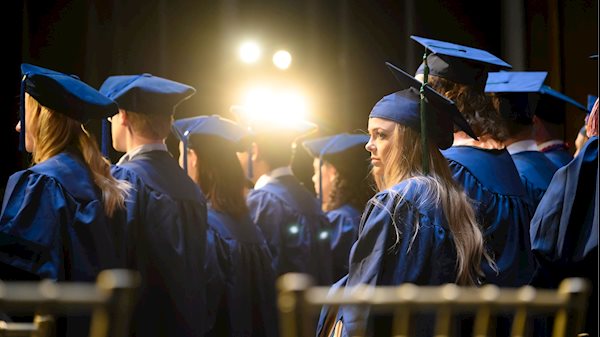 The West Virginia University School of Public Health welcomed 80 new graduates into its Public Health alumni family during its Commencement ceremony held on Friday, May 12. With more than 600 of the graduates' family members and friends in attendance cheering them on, the event was one to remember. WVU recognized nearly 4,500 graduates throughout Commencement weekend.
Interim Deans Sarah Woodrum and Erik Carlton opened the ceremony with joint remarks, emphasizing the critical role of collaboration in order to achieve progress.
"Relying solely on individual efforts and insights, heroic though they may seem, is an incomplete and increasingly impossible stance to take," Interim Dean Carlton said. "We also need to remember that bridges must be built from both sides."
"Whatever it is that drove you to public health, whatever it is that is fueling your passion to make the world a better, healthier place, we implore you not to go it alone," Interim Dean Woodrum added.
Nationally renowned health policy leader, administrator and practitioner, Georges C. Benjamin, M.D., delivered the Commencement address. In his speech, he spoke about his extensive experience as a public health professional including serving at the helm of the American Public Health Association (APHA) – the nation's oldest and largest organization of public health professionals—as its executive director since 2002.
"My journey into public health was an evolution in my understanding of my role as not only a health care professional, but as a leader in my community," he said. "I realized that if it hurt people or killed people it was mine and that I also had a role in helping people achieve health."
Reinforcing the opening remarks, he emphasized the need for collaboration in order to address systemic issues and challenged graduates to accept their new charge as graduates.
"You now have a prominent role in being your neighbor's keeper," Dr. Benjamin said. "Building the capacity for healthy communities to rapidly identify new health threats, craft solutions and effectively implement them is our task for the 21st century."
Before conferring the degrees upon the graduates, Health Sciences Chancellor and Executive Dean Clay Marsh outlined four principles to living longer, more fulfilling lives and, ultimately, better serve our communities.
"If you want to live longer and better, get back to our roots," he said. "Serve others; find a purpose, pursue that for your whole life; have deep connections with people and maintain those connections worth the effort; and look at the world as a place of joy and gratitude."
To watch the Public Health ceremony, visit the Health Sciences Commencement page. Additional photos from the ceremony can be found here and on the school's social media channels.
Meet some of the School of Public Health graduates by visiting the Public Health website.
Top photo: Public Health graduates stand on the commencement stage as they are recognized (WVU Photo/Davidson Chan).
---
CONTACT: Nikky Luna, Director of Marketing and Communications
WVU School of Public Health
304.293.1699; nikky.luna@hsc.wvu.edu