A decade of distinction: School of Public Health celebrates 10th anniversary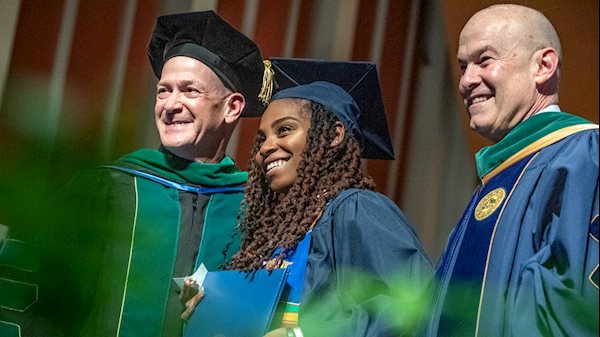 West Virginia University's School of Public Health is set to celebrate its 10-year anniversary, with a kickoff event on Tuesday, Oct. 25, that includes WVU President Gordon Gee, Health Sciences Chancellor and Executive Dean Clay Marsh and School of Public Health Dean Jeff Coben. Additional events, offered in person and virtually, will be held throughout the week.
"We have much to celebrate, having come a long way in a relatively short amount of time," Dr. Jeff Coben said. "When the School of Public Health initially launched in 2012, it was the first new school to be created at WVU in more than 50 years. Since then, in addition to achieving many other 'firsts,' we've more than doubled our academic program offerings and student enrollment, all while maintaining a steadfast focus on fulfilling our mission through innovative research, experiential learning and outreach."
Among the significant firsts for the school—and state—include earning national accreditation by the Council on Education for Public Health in 2015, making it the first and only accredited public health school in West Virginia. Shortly after launching the school's first undergraduate degree in 2016, the program was also awarded full accreditation. In 2020, the school earned reaccreditation for the maximum term of seven years, making it one of 67 schools to receive national accreditation and ensuring that students maintained access to resources such as exclusive scholarships, national and international collaborations and a multitude of educational workshops and trainings.
"As a Health Sciences Center that serves the state's citizens, the School of Public Health has played a critical role in fulfilling our land-grant mission over the past decade," Dr. Marsh said. "Students and faculty alike are developing solutions with local impact and global significance that address complex public health issues and will reverberate for decades to come. Their designation as a CEPH-accredited school is a reflection of their commitment to work tirelessly to address West Virginia's most pressing public health issues."
In 2018, the school launched the development of a training program focused on public health, the first of its kind in Appalachia. Funded by the U.S. Department of Health and Human Services, Health Resources and Services Administration, West Virginia University was one of only 17 awardees in the country, making it possible for the school to establish the Public Health and General Preventive Medicine residency program and expand its existing Occupational Medicine residency program.
The school reinforced its emphasis on top-tier training, research and service in the fall of 2019 through the formal establishment of an Academic Health Department—the first in West Virginia—in partnership with the Monongalia County Health Department.
In more recent years, the school has launched a new bachelor's program in health services management and leadership and three new master's programs, including two online programs – population health and health administration.
And prior to those milestones, there were other firsts that helped lay the groundwork for the school.
"WVU's first Master of Public Health degree was awarded in 1998," Coben said. "Our roots were laid in the Department of Community Medicine, housed in the School of Medicine, where a strong research portfolio was established and has since been maintained, contributing to WVU's ranking as a top research institution in the nation."
From the founding of the university's occupational medicine residency program in 1988, funded through a grant from CDC's National Institute for Occupational Safety and Health, to developing evidence-based programs dealing with tobacco and drug abuse—a Prevention Research Center-led initiative that earned government recognition in 2008—to the establishment of the Stuart M. and Joyce N. Robbins Distinguished Professorship in Epidemiology in 2011, these achievements, among many others, helped set the school up for a successful launch.
"It's been fascinating to witness our growth and see the things that make us unique and distinguish us from the rest come into sharper focus," Coben said. "Our emphasis on the student experience and the resources we offer –including our unique location, hands-on training opportunities and our robust network of partners within the Health Sciences and throughout the university, as well as many organizations and agencies at the local, state and national level—are what make us really stand out."
Coben recognizes those distinguishers, which he believes will continue to elevate the school throughout the next decade and beyond, are made possible by a single collective component.
"Those offerings wouldn't be possible without the people behind them, starting with our dedicated faculty and staff, past and present, who have shaped and implemented our programs and for whom I'm incredibly grateful," he said. "Additionally, our supporters and collaborators throughout WVU and the community and those throughout the state who have helped at varying levels, from helping to train our students to working alongside our faculty, are integral to everything we do. We couldn't carry out our work without each individual contributor.
"And, of course, it's our students, also past and present, who give life to our vision. They're our 'why'."
To learn more about the School of Public Health's 10-year anniversary and events, visit go.wvu.edu/PublicHealth10-years. All activities are free and open to the public.
Pictured above: Victoria Smith poses for photograhs with School of Public Health Dean Jeffrey Coben and Health Sciences Chancellor and Executive Dean Clay Marsh during the School of Public Health Commencement at the WVU Creative Arts Center on May 10, 2019. (WVU Photo/Brian Persinger.)
---
nl/10/19/22
-WVU-
CONTACT: Nikky Luna, Director of Marketing and Communications
WVU School of Public Health
304.293.1699; nikky.luna@hsc.wvu.edu