Delta Omega Gamma Mu Annual Research Roundtable returns to in-person format after three years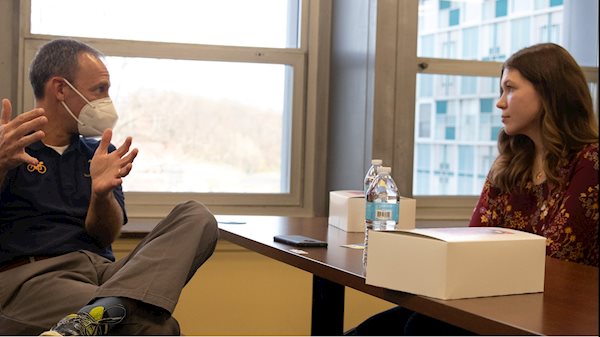 West Virginia University School of Public Health students had the opportunity to connect with faculty members and learn about their areas of research interest in the Delta Omega Gamma Mu Research Roundtable on Nov. 4.
Gamma Mu Vice President of Communications Jenna Kahwash said this event is important for students to recognize their passions and become aware of the opportunities that research provides to explore them.
"Some students may not even know about their professors' work outside of the classroom," Kahwash said, "so we have created a space for students to discover research projects that may align with their own personal interests and career goals."
As a result of the pandemic, the last two Research Roundtables were held virtually on Zoom, with this event being the first face-to-face session since 2019, something that Kahwash and other Gamma Mu members were excited to bring back.
"Involvement in research as a student is a unique way to explore your ideas and hone valuable skills that will be transferable to any public health profession," said Kahwash. "We hope that students will leave this event feeling inspired to get involved."
Learn more about becoming a member and connect with the Gamma Mu Chapter on Facebook, Twitter and Instagram.
---
-WVU-
CONTACT: Nikky Luna, Director of Marketing and Communications
WVU School of Public Health
304.293.1699