School of Public Health members help with local e-cycling event, organized by Public Health alumna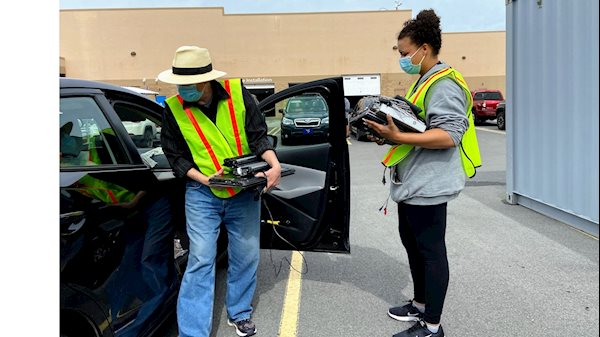 To help keep hazardous electronics out of the landfills, the Monongalia County Solid Waste Authority (MCSWA) held an electronics recycling (e-cycle) event for Monongalia County residents at the Sam's Club in Morgantown on Saturday, September 25.
School of Public Health undergraduate Shaelee Nelson, a health services management and leadership major, and Director of Undergraduate Studies Audra Hamrick were among the 14 volunteers who worked during the event. Volunteer responsibilities ranged from helping with set-up and breakdown in the event area; greeting residents; checking IDs; managing flow of traffic and helping unload and sort items.
At least 293 vehicles passed through the drop-off line. While vehicle count isn't the only indicator of the event's success, Lynn Castro, Solid Waste Authority administrator who coordinated the event, was pleased with the outcome.
"As a public agency and public administrator/health educator, it's important to do an after-assessment of the event to determine what went well and what needs improvement," Castro said. "Deciding if the event was successful is part of that assessment. At this point, based on the number of vehicles, the MCSWA felt the event was successful, as this was a good turn-out on a Saturday, competing with other events and a beautiful day.
"And, nobody got hurt, another significant success! Additionally, in talking with PC Renewal owner Susan Crosco, she felt from her perspective that the event was successful from the high volume of true recyclables."
Castro is a three-time graduate of WVU, having earned an M.S. in community health education (1999); a Master of Public Administration (2007); and a B.A. in communication studies (1996).
Pictured above, top to bottom: Lynn Castro and Shaelee Nelson unload electronic recyclables from a vehicle; Audra Hamrick collects information from a local resident in the drop-off line; a group of volunteers pause for a photo. (Photo credit: Luna/WVU and submitted/MCSWA.)
---
-WVU-
nl/09/30/21
CONTACT: Nikky Luna, Director of Marketing and Communications
WVU School of Public Health
304.293.1699; nikky.luna@hsc.wvu.edu