School of Public Health faculty members recognized at the American Public Health Association Annual Meeting and Expo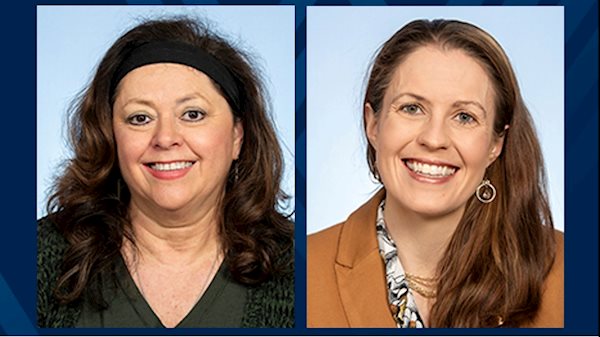 For West Virginia University School of Public Health students in the Master of Public Health program, Introduction to Public Health Interventions for Social and Behavioral Scientists (SBHS 616) is one of the first courses they will take. In addition to studying in the classroom, a key part of their learning is working with a community partner.
"Students are actually working with a community partner to create an intervention that is meaningful for that community partner or broader community," said Elizabeth Claydon, assistant professor in the Department of Social and Behavioral Sciences and one of the co-developers of this course. "They get to not only learn about public health but do public health work."
The efforts of Claydon and her colleague and co-developer, Assistant Professor Toni Morris, were recognized by the American Public Health Association with the 2022 Innovative Curriculum Award during the Annual Meeting and Expo from Nov. 6-9 in Boston, Mass.
"The class is an amazing opportunity for students to apply concepts while learning them and actually work with a community partner," said Morris. "The students have been able to create some wonderful work over the past few years and it's been amazing to see them interact with our community partners."
When the pandemic forced the class to become virtual, Morris and Claydon adapted the students' work with community partners to occur over Zoom. Despite the challenges, the students were still able to gain the benefits of the course.
"It worked out beautifully," Morris said.
This course was conceptualized by former faculty member Dr. Michael Mann, who then gave the syllabus to Claydon and Morris for them to develop further after he accepted a position at another university.
"[SBHS 616] would not be what it is without the guidance of previous versions by Dr. Mike Mann, the assistance of co-teaching by Dr. Toni Morris, and now my co-teacher Dr. Danielle Davidov for the most updated version of the curriculum," said Claydon.
A version of this course, PUBH 621, is now being offered for all Master of Public Health students as of the Fall 2022 semester.
Pictured above: Toni Morris, EdD and Elizabeth Claydon, PhD
---
-WVU-
CONTACT: Nikky Luna, Director of Marketing and Communications
WVU School of Public Health
304.293.1699