Graduate students gain valuable experience and network connections attending WV MGMA conference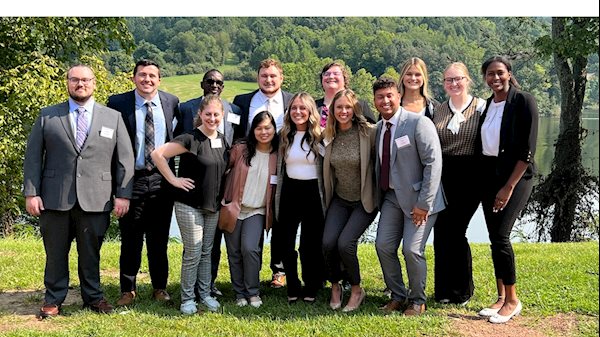 Students in the West Virginia University School of Public Health were given the opportunity to connect with healthcare administrative professionals, expand their network and learn outside the classroom by participating in the West Virginia Medical Group Management Association (WV MGMA) Conference on Sept. 15-16. Thirteen students traveled to Stonewall Resort in Roanoke, W.Va. for the experience.
During the conference, students attended keynote speeches and gained a greater understanding of the healthcare field they will enter when they graduate. WVU School of Public Health Senior Associate Dean Erik Carlton was also in attendance as one of the conference's speakers.
Haley Cothern, a Master of Health Administration student and one of the conference volunteers, said the experience allowed her to gain a broader view of the important topics in the current state of healthcare.
"The healthcare topics that were highlighted will allow me to apply real-world applications to classroom concepts," she said. "The connections that were created during the conference allowed me to expand my network, while honing in on my professionalism and leadership skills."
Anna Sellaro, a Master of Health Administration student and historian for HASA, said the conference made all the students feel welcome and included them in networking opportunities and discussions.
"I really enjoyed being able to network over dinner and lunch because I think it gave us an opportunity to talk to different members [of the healthcare administration field] that we might not have connected with during the sessions," she said.
This trip was made possible by Marla Nichols, the WV MGMA president, in partnership with the Health Administration Student Association (HASA), led by President Colton Young and Vice President Stephanie Prescott.
Pictured above: First and second year MHA students and one second-year MPH student attended the MGMA Conference on Sept. 15-16. Pictured from left to right (behind) are Vincent Hornig, Noah Collie, Yann Nene Bi (MPH), Colton Young, Stephanie Prescott, Hannah Chenoweth, Morgan Kniley, and Yara Alamin. From left to right (front) are Leigha Shreve, Thuc Tran, Anna Sellaro, Haley Cothern, and Trey Harvey. (Photo credit: Submitted by Anna Sellaro, HASA historian.)
---
-WVU-
MEDIA CONTACT: Nikky Luna
Director of Marketing and Communications
WVU School of Public Health
304-293-1699; nikky.luna@hsc.wvu.edu