Public Health students working to address unmet needs of West Virginia kids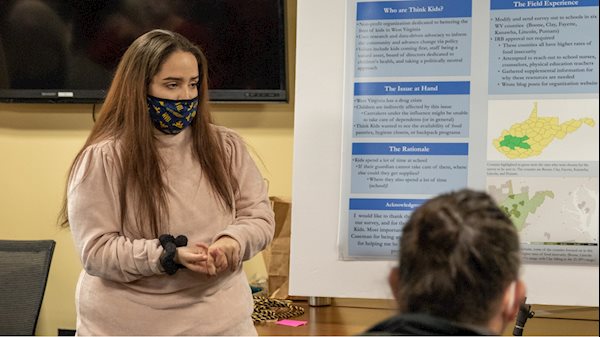 Thanks to a strong partnership with Think Kids, students at various points of their academic journeys in the West Virginia University School of Public Health have been given the opportunity to engage in professional, hands-on experiences that will bring them one step closer to fulfilling their career goals.
The School's first connection with Think Kids was made when then-undergraduate student Brittany Smith, who is now enrolled in the Ph.D. in Public Health Sciences program, began getting involved with research focusing on children whose parents experience substance use disorder, particularly mothers. Smith's mentor at the time connected her with Kelli Caseman, executive director of Think Kids, and the partnership providing opportunities for students to gain valuable experience working with this vulnerable population began.
"We launched Think Kids in 2020 with a focus on using data-driven advocacy to address the long-existing health inequities that West Virginia's kids experience, which the drug epidemic has now amplified," Caseman explained. "We're grateful for this relationship with the WVU School of Public Health and the students who have worked with us. They show genuine care for the issue, are eager to learn more, and have taken the initiative. Working to address the unmet needs of kids affected by familial drug use can be deeply affecting. But these students came to the work with open hearts and a critical lens, and it has made us better at what we do."
Cassie Bambrick, B.S. in Public Health: Addressing the Needs of Children of the Drug Crisis
Every undergraduate student in the School of Public Health completes an applied field placement during the final semester of their senior year. December 2021 graduate Cassie Bambrick, who became familiar with Think Kids thanks to her friendship with Smith, was drawn toward the opportunity to work with the organization when she learned of its projects focusing on substance use disorder.
During her placement, Bambrick put her classroom lessons to work through the organization's Addressing the Needs of Children of the Drug Crisis project. It's estimated that more than 2 million children have been affected by the U.S. opioid epidemic, and children in West Virginia are affected at a higher rate than those in any other state. The Think Kids project aims to assess how communities across the state are responding to the healthcare needs of children affected by the epidemic and then create a ground-up approach to provide the resources needed to meaningfully respond to the communities' specific challenges and opportunities.
"A majority of the work I did was based on tailoring, sending out and recording results of a survey in six counties in West Virginia to determine what resources were available to children in the public school system, specifically food pantries, hygiene closets and backpack programs," said Bambrick of the assessment in Boone, Clay, Fayette, Kanawha, Lincoln and Putnam counties. "My Biostatistics for Population Health and Public Health Research Methods classes helped me use statistical concepts to describe survey results and taught me proper research methods that I was able to use as a resource. And my work with Think Kids helped me strengthen my qualitative research skills."
Bambrick also built on her knowledge from the Writing for Public Health Audiences course through Think Kids blog posts and graphics geared toward sharing project information with communities and encouraging advocacy for this vulnerable population.
As Bambrick rounds out her time in the B.S. in Public Health program and looks toward graduate school, she says her experience with Think Kids has broadened her horizons and shown her the importance of advocating for this group.
Owomide Adeyemi, Master of Public Health: Foster Care in WV – Where do the kids go?
Owomide Adeyemi, a student in the Master of Public Health program, is also working with Think Kids on a project that supports children in West Virginia affected by the opioid epidemic. Her interest in the organization and its priorities stemmed from her work at WVU Medicine's J.W. Ruby Memorial Hospital as an addiction specialist working with individuals who struggle with substance use disorder.
"The work that Think Kids does is important because they focus on the individuals who are affected by the impact of drugs but usually overlooked," said Adeyemi. "Think Kids focuses on being a voice for West Virginia's youth, and it's a field I want to learn more about and discover ways in which I can positively influence their lives."
Adeyemi's Think Kids project, Foster care in WV: Where do the kids go?, has provided her with an opportunity to research this group of children who often don't receive proper support and resources.
A symptom of the crisis, the foster care system in West Virginia has experienced a 66.21 percent increase of children in its care since January 2015. Adeyemi uses her knowledge of data management and observation of trends from her epidemiology coursework to analyze foster care placement data provided by the West Virginia Department of Health and Human Resources.
"Focusing on the advocacy aspect of public health, my project highlights the different provider types kids are placed in," she said. "The information discusses in detail what the facilities are like, what services they provide and the positive and negative aspects of each provider."
To help inform and advance community and policy change, Adeyemi's research is often featured in the Think Kids monthly newsletter and on the organization's social media channels.
Brittany Smith, Ph.D. in Public Health Sciences: Focusing on adverse childhood experiences through research, advocacy and education
Smith's passion for preventing suffering among West Virginia's youngest residents led her to get involved in advocacy efforts early on in her academic career. As an undergraduate student in the School of Public Health, she was invited by Caseman to join the Think Kids board of directors, a role she still serves in today.
"We wanted generational representation on our board of directors, and we recruited Brittany to serve because we were so impressed with her research," Caseman said. "It was rigorous yet compassionate, and importantly, it could potentially inform policy."
"Kelli Caseman is a remarkable advocate and I was thrilled to have the opportunity [to serve on the board] as I am professionally and personally invested in preventing suffering among children affected by the substance use crisis," she said. "The importance of this work cannot be overlooked. Working with children is the key prevention."
As a member of the board, Smith helps guide the direction of the organization and collaborates with other members to examine projects, funding, legislation and community efforts that support its mission. Her work as a Ph.D. student enables her to provide insight into current research and evidence that is critical to meeting its priorities, and in turn, Think Kids is providing her with invaluable experience and mentors who help expand her knowledge.
"I plan to dedicate my entire career to working with this population," Smith said of her future. "I believe that as a society we forget that children are growing, active participants in our world. If we ignore the issues they face, we are setting them up not reach their potential. This is even more true for children from the vulnerable populations served by Think Kids."
Photo at top: Cassie Bambrick presents her poster about her capstone field placement experience with Think Kids during the Undergraduate Senior Showcase at the end of the fall 2021 semester.
---
-WVU-
jdw/12/16/21
CONTACT: Nikky Luna, Director of Marketing and Communications
WVU School of Public Health
304.293.1699