Students help scouts earn public health merit badge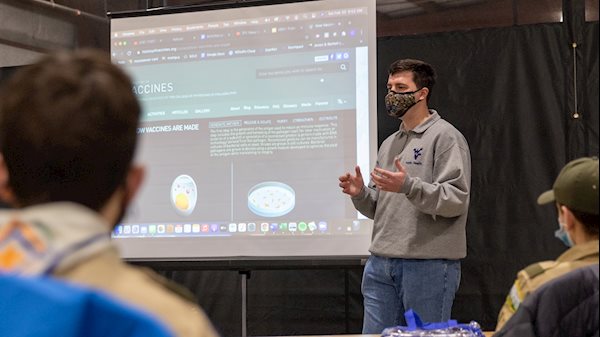 Young people across the Mountain State have learned a lot about public health safety measures throughout the past year. Thanks to students in the West Virginia University School of Public Health, participants of Merit Badge University can now officially add the public health merit badge to their collection.
Sponsored by WVU and the Mountaineer Area Council of the Boy Scouts of America, Merit Badge University is an annual event that provides members of Scouts BSA with the opportunity to earn a merit badge in one day. Instructors include expert faculty and staff from WVU and the Morgantown community and, in the case of the public health session, students who will soon complete their undergraduate degree.
"Completing community service as a part of our degree program is very beneficial," senior Kylee Vaillancourt said. "Public health is a very hands-on major that uses prevention methods to inform the public, so it was an amazing opportunity to be able to take my knowledge that I have learned in my undergraduate career and share it with other individuals."
Dean's Ambassadors Cassie Bambrick, Jordan Ceglar, Ryan Titus and Vaillancourt worked with Developmental Advising Specialist Sarah Opatz to ensure the full-day session would meet the requirements of the BSA merit badge while also providing a fun experience for the young scouts.
"It was fun getting to teach the importance of public health to the scouts through lessons and activities," Ceglar said of the session. "We discussed our material through a lecture and then played interactive games such as Kahoot and Jeopardy to help solidify that information. I was glad to see that we made learning about public health fun and enjoyable for the scouts!"
One of the original 57 merit badges issued in 1911, the public health badge may have increased significance during a pandemic, but the requirements have remained steady throughout its history. Today's scouts, as well as those earning the badge more than 100 years ago, learned about disease transmission, disease prevention, food safety and campsite sanitization practices.
The lessons taught throughout the day will help the scouts keep themselves and their communities safe. And for the School of Public Health students, the opportunity to engage with Scout BSA members allowed them to share their passion for public health and serving the community.
"It is important that everyone, young and old, is educated in public health," Ceglar said of working with the community. "Instilling these values into young people will allow for a better comprehension of what things we can strive for to allow for improved health. This will eventually result in fewer complications for public health situations that may appear in future generations, making populations around the world safer and healthier than before."
"Teaching public health safety to the community and especially young people is very important for change in future generations," echoed Vaillancourt. "Some young people in West Virginia may not get the opportunity to learn about healthy choices because of lack of funding for programs, but we can use our role as Public Health students is to inform the community and eventually, we can see change."
Top Photo: WVU School of Public Health senior Ryan Titus teaches Boy Scouts of America members about vaccines as part of Merit Badge University. (February 20, 2021; WVU Photo/Jessica Wilmoth)
-WVU-
jw/03/09/21
CONTACT: Nikky Luna, Director of Marketing and Communications
WVU School of Public Health