Undergraduate students present hands-on capstone experiences with community partners during Capstone Showcase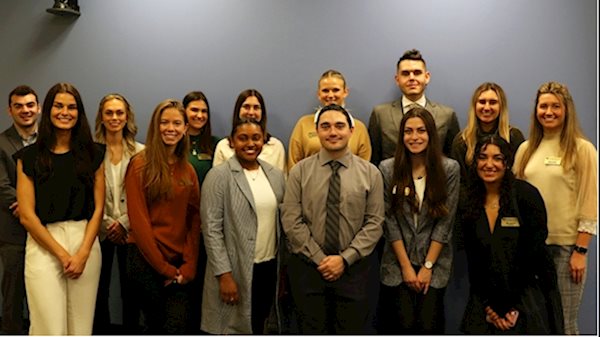 On Dec. 7, 14 seniors from the West Virginia University School of Public Health presented the results of their capstone experiences to their peers, professors, mentors and community partners.
"The poster presentations allow the students the opportunity to highlight their outcomes, outputs and overall applied practice experience," said Audra Hamrick, director of undergraduate studies for the School of Public Health. "It is such a pleasure to see the increased confidence and overall growth the students demonstrate during this showcase."
The Capstone Showcase presentations are the culmination of the experiential learning requirement for graduation. Students complete a field placement experience in a local or regional agency or institution. These experiences foster connections between the students and the communities they may one day serve upon completing their degree.
"The field experiences are an opportunity for students to apply the skills, theories, and concepts they have learned in the classroom in the real world," Hamrick said. "These experiences help solidify post-graduation plans and often lead to full-time positions."
Chloe Sidick and Erica Gironda completed their field placement experiences with the WVU Medicine Medical Weight Management clinic, where they were responsible for scanning new patient forms and checking in with patients weekly on their weight loss goals.
For Chloe, her field placement experience solidified her decision to pursue a nursing degree after walking across the stage at December Commencement.
"My public health degree will complement my nursing degree because I have a better understanding of social determinants of health," she said. "I'm able to better understand backgrounds that people are coming from and the factors that influence their overall health."
Gironda saw patient navigation as the most valuable aspect of her experience with the clinic.
"I was taught how to be a better patient advocate and learned how to communicate better with them and how to find the different barriers they may be experiencing but not be able to communicate with us," she said.
Audra Hamrick said that the poster presentations not only highlight student work, but feature the work of campus, community and clinical partners.
Brice Haines, one of the patient navigators for the clinic and preceptor for Chloe and Erica's field experiences, said that working with students helped the clinic flow more smoothly, and they gained valuable experience in return.
"They benefit from engaging with patients individually and fulfilling administrative responsibilities," Haines said. "They were able to better understand a patient's feelings and experiences because they checked in weekly on how their goals were going, and it was also part of their research responsibility."
Learn more about the School of Public Health's experiential learning opportunities and some of our partner organizations that make these field experiences possible.
---
CONTACT: Nikky Luna, Director of Marketing and Communications
WVU School of Public Health
304.293.1699; nikky.luna@hsc.wvu.edu