Parent-to-Parent Letter
Dear Future Mountaineer Parent: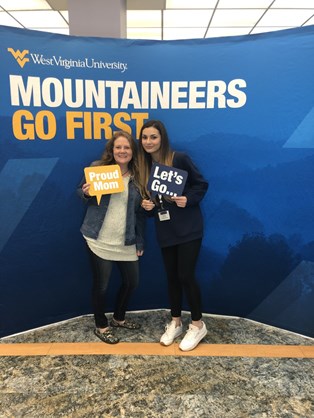 If you are considering West Virginia University, I would like to welcome you to the family. Because, if you are considering it, you will inevitably fall in love.
I was in your position just three years ago. I can hardly believe that my daughter, Amara, is now in her senior year, and will be graduating from the School of Public Health in May. From my position now, I can say that choosing WVU was the absolute best decision that my daughter could have made.
Amara started applying to colleges right after we lost my mother to cancer. Being born and raised in West Virginia, my mother loved her home state dearly. So as a nod to her, Amara decided to apply, and we subsequently decided to plan a fun visit thinking this would have made my mom so happy. We fell in love; but, still thought it was a bit too far from home.
On a whim, we decided to stop by the School of Public Health to take a picture. As we arrived, we met Lauren Devine. She gave us a tour and answered so many questions. As we were leaving, she offered to have a student reach out to my daughter if she wanted a student's perspective. It was just 15 minutes later that Amara made her first friend when the ambassador reached out. My daughter, with the confidence of youth, made her decision on the drive home.
While Amara was excited and began collecting WVU gear, I was conflicted because the university felt like it was too far from home. In reality, it is only four hours away. Like a lot of parents, I worried. I worried about big things and small. The university offered a wonderful Facebook page for parents. Through experienced parents we learned a lot about the university. The common thread was absolute love for the Mountaineer community. I remember thinking that many parents seemed to embrace the University as their own rather than their child's. Looking back, I smile as I realize that I do indeed count this university as my own. When my alma mater played WVU in the opening football game, I was found sitting on the West Virginia side sporting my gold and blue. The worry that I wouldn't be a part of my daughter's college journey--well, that just didn't happen.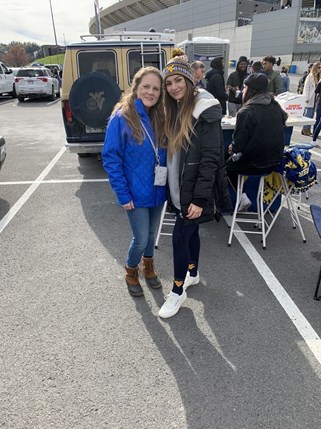 The biggest reason that I think you should make West Virginia University home is the education and growth they will achieve. Amara has had many opportunities. She became a School of Public Health Dean's Ambassador to share her love for the university. She had the opportunity to become a teaching assistant her sophomore year and this year, which gives her teaching practicum credits. I have seen my daughter mature and gain confidence. 
So, as you begin your journey, let me be the first to say, welcome and let's go, Mountaineers! 
Best Wishes,  
Jamie Garity from Waldorf, MD  
P.S. Want to see what Kelli, another Mountaineer parent, had to say? Read her letter here.