Accreditation
Update on Accreditation Process
The West Virginia University School of Public Health has been reaccredited through December 2027, making it one of 67 schools to receive national accreditation by the Council on Education for Public Health.
The Council on Education for Public Health is the nationally-recognized accrediting body for schools of public health and public health programs. 
Attending a CEPH-accredited institution ensures the degree programs have completed a multi-level review and were found to meet the standards developed by public health academics and practitioners. Additionally, CEPH-accredited institutions gain access to a wealth of resources, including exclusive scholarships; faculty, staff and student awards; national and international collaborations; and a cadre of educational workshops and trainings.
The CEPH Board of Councilors acted at its November 19-20, 2020, meeting to accredit the School of Public Health for the seven-year term – the maximum accreditation period possible – with an interim report to be submitted in fall 2021.
Additionally, since the site visit occurred via distance technology to accommodate COVID-19-related travel restrictions, the accreditation term is contingent on the program hosting an on-campus visit no later than Nov. 20, 2021, to validate the program's continuing eligibility for accreditation. To read the full announcement, visit WVUToday. 
The School of Public Health Self Study is available to the public. The official accreditation report will be made available in the coming weeks. In the meantime, to request a copy of the report please contact Crystal Rhodes.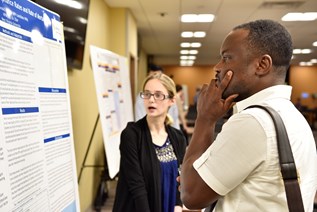 Adhering to a Higher Standard
The School of Public Health is preparing the next generation of population health leaders. In addition to hands-on, experiential learning and research opportunities, the School offers a rigorous curriculum taught by experts in their fields.

We are one of only 67 schools of public health to receive national accreditation by the Council on Education for Public Health (CEPH). Being a CEPH-accredited school provides our students with additional resources and opportunities, as well as the assurance that the WVU School of Public Health delivers quality educational experiences for all students.
CEPH does not accredit PhD programs. Doctoral programs that apply for CEPH-accredited status are seeking this accreditation for the Doctor of Public Health (DrPH) degree. However, our PhD in Public Health Sciences program – with its strong record of student research achievement and placement – is accredited by the Higher Learning Commission of the North Central Association of Colleges and Schools. As we progressed from affiliate school of public health status to accredited school status, all of the programs of the school were evaluated under the CEPH school accreditation rubric.
In 2015, CEPH accredited West Virginia University School of Public Health for a five-year term. In November 2020, the School was notified by the CEPH Board of Councilors of its reaccreditation through December 2027, with an on-campus visit and interim report provided in the fall of 2021.
View more details on the accreditation process.
Our Journey
The School's petition to begin the process toward school accreditation though CEPH was accepted in June 2012 . During this time, the already solid accreditation status of our strong programs did not change. New schools undergo an intensive two-year period of self-study as part of their initial school accreditation process. (The self-study takes approximately two years; the journey outcome is often closer to three years.)  This process was exciting for the School of Public Health, as well as for colleagues throughout West Virginia and beyond who assisted in the School's expanding mission to address rural health disparities.
Review the School of Public Health 2014 Final Self-Study.
If you have questions about the accreditation process, please contact Dr. Erik Carlton and/or Dr. Heather Henderson.
Erik L. Carlton
,
DrPH, MS
West Virginia University
Positions

Senior Associate Dean for Academic and Student Affairs, Academic & Student Affairs
Associate Professor, Health Policy, Management, and Leadership
West Virginia University
Positions

Assistant Professor, Health Policy, Management, and Leadership
Director of Accreditation, Planning, & Evaluation, Academic & Student Affairs

Phone

304-581-1764