Leadership Council
The purpose of the West Virginia University School of Public Health Leadership Council is to support the School's mission, which is to improve the quality of life for West Virginians and all who call Appalachia home.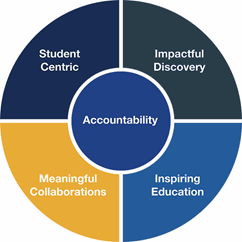 Specifically, the Leadership Council acts as an advisory group for high-level strategic planning with the dean and senior leadership team; expands the knowledge base of the School, particularly in areas of business and industry, science and technology and legal affairs; and supports development efforts. Members also serve as ambassadors for the School.
The School of Public Health Leadership Council is composed of both distinguished and accomplished individuals who believe in the School as a transformational agent for discovery, growth and development of individuals and communities – through educating future thought leaders, uncovering new knowledge and working with communities for the health of all people. 
Meet the Leadership Council
Mary Aldred-Crouch, MSW, is the director of behavioral health for Recovery Point West Virginia, a non-profit providing recovery programs at no cost to individuals suffering from a substance use disorder. The organization has grown from serving 10 men in Huntington in 2011 to serving hundreds of men and women struggling with substance use disorders in multiple locations.
Aldred-Crouch is a two-time graduate, having received both her Master of Public Health and Master of Social Work from West Virginia University. 
Fred Earley II, JD, has nearly 30 years of experience in the healthcare and insurance industries. His practice focuses on health care and government relations work for clients ranging from hospitals and health maintenance organizations to physicians and long-term care facilities.
He served as president of Highmark Blue Cross Blue Shield West Virginia from 2009 to 2016, with responsibility for all market-facing functions of the company, including sales and marketing, government and public relations and provider contracting and reimbursement. During his tenure as Highmark's president, he oversaw the transitional period during the implementation of the Affordable Care Act. Earley's career with Highmark first began in 1989, and included roles in compliance, operations, legal and administration.
Earley's unique perspective of the healthcare landscape combines practical experience and hands-on knowledge for providers who need both theoretical and practical solutions for their business.
Emma Eggleston, MPH, MD, is the director of the WVU Medicine Center for Diabetes and Metabolic Health and dean of the WVU School of Medicine Eastern Division. She is an endocrinologist who treats adult patients in the Center and within the Endocrine Clinic.
Following her fellowship training, Dr. Eggleston was on faculty at the University of Virginia and Harvard Medical School, and an attending physician at Brigham and Women's Hospital where she co-directed the Maternal Fetal Medicine Diabetes in Pregnancy Program. Eggleston's clinical expertise is in complex type 1 and type 2 diabetes and diabetes in pregnancy. Her goals for the Center are to provide state of the art clinical care across the age span with a focus on prevention, families and community partnerships.
John Fahey is senior vice-president and corporate marketing director of United Bank Inc. He received his bachelor's degree in finance from the WVU College of Business and Economics and holds graduate degrees from both WVU and Georgetown University.  Immediately following graduation at WVU, Fahey joined then-President Gordon Gee's staff and served for two years before accepting employment in the private sector.
Fahey is a 30-plus-year career business leader who has held positions in manufacturing, higher education, the computer industry and, since 1991, in banking. He is co-founder of Centra Bank Inc., now United Bank, which was recognized by both Entrepreneur and INC magazines as one of the top boutique financial service companies in the country and identified by the investment banking community as one of the fastest growing banks in the nation.
In addition, Fahey continues to run his family's property and natural resource business in central West Virginia and is a principal in a real property investment group in Southern Florida. 
Fahey has been actively engaged in the life of WVU for more than three decades. He completed a two-year term (2013-15) as the chairman of the Alumni Association board of directors, having joined the board in 2008 and serving in respective committee chair and officer capacities until being elected chairman in 2013. He also was a member or the board of Directors of the WVU Foundation from 2013 to 2015.
His local volunteer service goes to the Salvation Army, Rotary and the United Way. 
Dean Hartley, JD, is one of the founding attorneys at Hartley Law Group, PLLC. He has a strong passion for helping personal injury victims and looks to use his understanding of the law to gain them a just outcome. His in-depth background practicing personal injury allows him to better serve his clients. He strives to help in whichever way he can, and offers not only strong litigation skills, but a compassionate advocate as well.
Hartley makes it his place to step in and fight on behalf of those harmed on the job from exposure to toxic chemicals, an accident or the daily strain of their job. Since entering the legal profession, he has continually sought to advance his knowledge of the state laws on personal injury and to better understand more effective tactics when seeking relief for clients.
Todd Karpinski, PharmD, is responsible for the strategic planning, development and operations of all WVU Medicine pharmacy services across the West Virginia University Health System. His charge includes identifying and growing opportunities for business development and clinical services, as well as managing operations, pharmacy data analytics and pharmacy procurement. He also directs strategic initiatives aimed at driving cost-reduction efforts and achieving the highest in clinical quality and customer service across all WVU Medicine facilities.
Previously, Karpinski served as national director of ambulatory pharmacy for The Resource Group, a component of Ascension Health that provides contracting, operations and logistics, and integrated management strategies and implementation services. Karpinski also served previous roles as chief pharmacy officer and associate dean for health system practice at Froedtert and Medical College of Wisconsin.
Karpinski serves as a board member with the American Society of Health Systems Pharmacists and is a current fellow with the American College of Health System Executives. In 2013, he received the Pharmacist of the Year from the Pharmacy Society of Wisconsin.
Margaret Kitt, MPH, MD, is the deputy director at the National Institute for Occupational Safety and Health (NIOSH) in the United States. She shares with the NIOSH director the responsibility for the Institute's research and program operations. She also oversees the NIOSH Global Health Programs. Dr. Kitt is an occupational medicine physician and has worked for NIOSH since 2002. She was a senior flight surgeon in the U.S. Air Force, serving for 14 years, and then spent 16 years in the United States Public Health Service, retiring in 2018 at the rank of Rear Admiral.
Mohannad Kusti, MPH, MD, is a global physician executive and healthcare consultant with unique expertise and experience related to corporate healthcare benefits. He serves a variety of employers as a consulting corporate medical director and chief medical officer through Optimal Workplace & Environmental Wellness Corporation. Most recently, Dr. Kusti completed successful tenure as corporate medical director at United States Steel Corporation (U.S. Steel) at the Pittsburgh, Pa., location. Prior to that role, he served as a U.S. Steel plant medical director for several years at Mon Valley Works. Kusti recently joined Pivot Onsite-Innovations as a medical director. He also serves Floss Bar Inc. as its consulting CMO, and has joined the CMO on Demand and Corporate Medical Advisors consulting firms.
Kusti served as an associate service fellow at the National Institute for Occupational Safety & Health (NIOSH) for a year following the completion of an occupational medicine residency at West Virginia University. He is board certified as a specialist in Occupational Medicine by the American Board of Preventive Medicine, and is a certified Medical Review Officer, a Certified Professional Supervisor for Audiometric Monitoring Program, as well as a Certified Medical Examiner for the FMCSA.
Fr. O'Donnell, PhD, is delighted to be missioned to West Virginia for the third time in his life. He is a member of the Jesuit community at Wheeling Jesuit University and is research director of the Appalachian Institute. His doctorate dissertation focused on the reaction of regions to the collapse of their industrial base. During the 1990s, he worked at the University of Detroit Mercy linking the University with efforts to improve the social and economic situation on the neighborhood and metropolitan levels. His research interests also include humans' relationships to the landscapes in which they live.
Stu Robbins is the former managing director, Global Equities for Donaldson, Lufkin & Jenrette (DLJ). During his tenure, DLJ Equities became one of Wall Street's most highly ranked organizations. He was a member of DLJ's Board of Directors, a member of the Board of DLJ International (Equities) and chair of Autranet. He was, also, a top ranked research analyst, ranking in the top three of the Institutional Investor All Star rankings for eleven consecutive years.
Following DLJ's sale to Credit Suisse First Boston in 2000, Robbins was chair of the Board of Directors of SoundView Technology Group, one of Wall Street's leading independent research providers. He chaired the firm's Board during a substantial industry restructuring and through its sale to Charles Schwab. Robbins also served on the Boards of Directors of Archipelago, First Call, LaBranche and OpenExchange.
Robbins has been active with a number of charitable organizations, including the Blanchette Rockefeller Neurosciences Institute, Detroit Zoological Society, Detroit Metro and Northeast Michigan Juvenile Diabetes Research Foundation and United Jewish Federation. He is a past chair of the West Virginia University Foundation, member of the WVU Academy of Distinguished Alumni and member of the Vandalia Society.
F. Scott Rotruck, MBA, is the chair of the West Virginia Board of Education's Finance Committee. He was appointed to the Board in March 2016, by Governor Earl Ray Tomblin to fill an unexpired term that ended November 2017, and Governor Jim Justice reappointed him to a full nine-year term ending November 4, 2026.
Rotruck is the senior accounts manager at Orion Strategies, LLC, and serves as chairman of the West Virginia Public Education Collaborative. He has extensive experience and expertise in the energy sector having served 10 years in railroad operations, 20 years in regulatory and external affairs in the coal, oil and natural gas industries and six combined years as the economic development director and member of the adjunct faculty at the West Virginia University College of Business & Economics. He is an accredited (Angel) investor and participant in several early stage companies in West Virginia.
He was appointed by four West Virginia governors to chair several statewide boards in economic development, tourism and venture funding.
Cathy Slemp, MPH, MD, has spent a career working in public health at community, state and national levels. Most recently, she worked with the West Virginia Department of Health and Human Resources, Bureau for Public Health as the commissioner and state health officer. From 2002 to 2011, Dr. Slemp served as both the Bureau's acting state health officer and the founding director of the state's public health emergency preparedness and response programs. Prior to these roles, she worked with local health departments and other partners to build epidemiology capacity and was the founding director of the state's Division of Infectious Disease Epidemiology.
Slemp has also had an active public health consulting practice. She served as an action-learning coach for the Public Health Institute's National Leadership Academy for the Public's Health working with multi-sector teams to advance health equity in communities, provided executive level support to the Department of Health in the U.S. Virgin Islands, and worked locally as relief and development coordinator for the Episcopal Diocese of West Virginia, coordinating disaster recovery efforts and engaging faith-based organizations with community partners using a gifts/asset-based approach.
Slemp is board-certified in both public health/preventive medicine and family practice.
Ron Stollings, MD, is a member of the West Virginia State Senate, representing District 7. Dr. Stollings was first elected to the state Senate in 2006 and was reelected in 2010 and 2014. His current term ends on December 1, 2022. Previously, he served as chair of the Senate Health and Human Resources Committee. He currently serves on the Finance, Education, Health and Human Resources, Economic Development, Natural Resources, Workforce and Rules committees. He is a member of the Select Committee on Children and Families. In addition, he co-chaired the Legislative Interim Oral Health Committee. On the national level, Dr. Stollings is the immediate past co-chair of the Council of State Governments Health Policy Committee.
Board certified in internal medicine, Stollings joined the Southern West Virginia Health System in February 2018. Previously he had been in private practice at the Madison Medical Group and on the staff of Boone Memorial Hospital for 33 years. He has been elected as a Fellow to the American College of Physicians. Previously, Stollings served as President of the West Virginia State Medical Association (WVSMA). He also is a founding trustee and former board chair of the West Virginia Medical Foundation.
John Ronald Unger II represents the 16th district in the West Virginia State Senate. The 16th District includes all of Jefferson County and a portion of Berkeley County. Unger also became Majority Leader of the West Virginia Senate in January 2011. He currently serves on the Agriculture and Rural Development, Finance, Education, Health and Human Resources, and Interstate Cooperation committees.
Unger was named a member of the 1992 USA TODAY All-USA Academic Team. He was a student at West Virginia University, and went as a Rhodes Scholar to Oxford University.
Unger is ordained as an ELCA Lutheran pastor, and serves the congregations of St. John Lutheran Church, St. John's Episcopal Church and Bolivar United Methodist Church in Harpers Ferry, West Virginia. In addition, he is a chaplain for the Berkeley County Sheriff's Office.
Frank Vitale, MBA, is a resident of West Virginia with more than 25 years of experience in business and community leadership. Vitale currently serves as president and CEO of Forge Business Solutions, a veteran owned professional consulting firm headquartered in Morgantown, W.Va., with a focus on community and government relations, strategic planning, human capital development, veteran programs, and professional development.
Throughout his career, Vitale has held senior leadership roles managing human relations and operations at financial and healthcare institutions and most recently, as chief human resources officer at KeyLogic Systems.
A graduate of the US Army's Academy of Health Sciences, Vitale has more than 17 years of accumulated service to his country as a member of the U.S. Army and West Virginia National Guard, finishing his career with the rank of Captain.
Vitale was selected as a 2015 "Young Gun" by West Virginia Executive Magazine. He is the recipient of the 2014 WVU Alumni Association's Community Service Award, and in 2011 the West Virginia State Journal chose him as a member of "Generation Next – 40 Under 40."
Robert Walker (bio forthcoming)