WVU School of Public Health honorary society recognized nationally for excellence in scholarship and service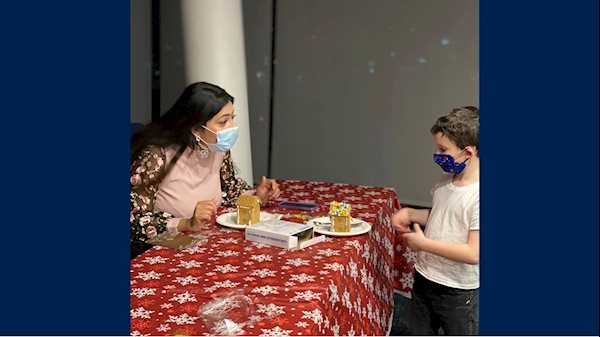 Gamma Mu, the West Virginia University chapter of the Delta Omega Honorary Society in Public Health, will be recognized once again as the National Chapter of the Year at the annual Delta Omega meeting on Nov. 7 at the American Public Health Association Annual Meeting and Expo in Boston, Mass.
Since its establishment at WVU in 2012, the Gamma Mu chapter has been recognized multiple times by the Delta Omega National Office and Executive Committee for its leadership and dedication to service.
"I am so proud of the incredible accomplishments of our Gamma Mu chapter, not only this past year, but since its inception," said Elizabeth Claydon, PhD, Gamma Mu faculty adviser and assistant professor in the Department of Social & Behavioral Sciences. "To excel in the mission of scholarship, outreach and service is meaningful not only for our chapter, but also for the students we impact, the community we serve and the individuals we reach."
The Gamma Mu leadership team for the 2021-22 academic year consisted of 11 students ranging from undergraduate students to PhD candidates. 2021-22 Gamma Mu president Cat DeFazio said that this arrangement ultimately benefits how the chapter runs.
"We are one of the few chapters that's student-led," said DeFazio. "I think that gives us great insight. When we are brainstorming ideas, we are thinking about our peers and what they might be interested in seeing from our organization."
Gamma Mu 2022-23 President Mohini Chatterji said that the group's diverse range of service activities is another one of the attributes that led to this recognition.
"We could just be doing the same five activities every year because that's easy and convenient," Chatterji said. "Instead, we're constantly trying to find new organizations to partner with, new service activities to volunteer for and [other] ways to positively impact our school and the society. "
Over the course of the last year, the Gamma Mu chapter adapted to the challenges of the pandemic by offering virtual events and gradually reintroducing in-person activities with safety precautions, like food drives, trainings and used book sales. Even with these adaptations, the group managed to complete 3,020 hours of service with 14 events.
Haley Cothern, the 2022-23 president-elect, shared that these changes were not without its challenges.
"In some instances, this has been difficult to know what the 'right thing' to do is; however, our leadership team has persevered," she said.
Learn more about becoming a member and connect with the Gamma Mu Chapter on Facebook, Twitter and Instagram.
Pictured above, top to bottom: (top) Members of the Gamma Mu Chapter of the Delta Omega Honorary Society in Public Health volunteer at a gingerbread house making event as a part of their mission of service to the community. (middle) Delta Omega members completed 3,020 hours of service in the last year with 14 events like the Rail Trail cleanup in September. Photos submitted by Delta Omega Gamma Mu Chapter members Visakha Turner and Cat DeFazio.
---
-WVU-
kg/10/31/22
CONTACT: Nikky Luna, Director of Marketing and Communications
WVU School of Public Health
304.293.1699