Senator Ron Stollings, M.D., F.A.C.P.
West Virginia State Legislator
,
7th Senatorial District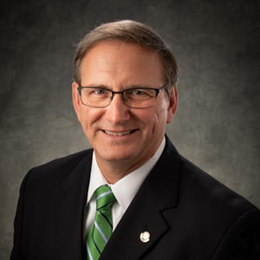 A native of Madison, West Virginia, Dr. Ron Stollings earned both bachelor's and master's degrees from West Virginia University. He is a graduate of the Marshall University School of Medicine, and completed a residency in internal medicine at Bowman Gray School of Medicine at Wake Forest University. 
Board certified in internal medicine, Dr. Stollings joined the Southern West Virginia Health System in February 2018. Previously he had been in private practice at the Madison Medical Group and on the staff of Boone Memorial Hospital for 33 years. He has been elected as a Fellow to the American College of Physicians. Also, he is a professor of medicine for the West Virginia University School of Medicine. Dr. Stollings serves on the Visiting Committees of the WVU School of Medicine and the WVU School of Public Health.
Previously, Dr. Stollings served as President of the West Virginia State Medical Association (WVSMA). He also is a founding trustee and former board chair of the West Virginia Medical Foundation. Fellow physicians elected Dr. Stollings to serve as a Board member and Secretary of the provisional board of the West Virginia Physicians' Mutual.  From 1998-2000 he assisted with the Coronary Artery Risk Detection in Appalachian Children (CARDIAC) project. His outstanding devotion to his patients and his community were recognized by the WVSMA in 1994, when its members named Dr. Stollings the Rural Physician of the Year. In 2015 Dr. Stollings received the Dr. Robert L. Ghiz Award for Outstanding Service to the Physician Community of West Virginia. Recently, Dr. Stollings received the inaugural "Friend of Family Medicine" Award from the West Virginia Chapter of the American Academy of Family Physicians and the "Friend of Medicine Award" from the West Virginia State Medical Association.
Dr. Stollings was elected to represent the 7th Senatorial District in the West Virginia State Senate in 2006 and was reelected in 2010 and 2014. Previously, he served as Chair of the Senate Health and Human Resources Committee. He currently serves on the Finance, Education, Health and Human Resources, Economic Development, Labor, and Rules committees. He is a member of the Select Committee on Children and Poverty. In addition, he co-chaired the Legislative Interim Oral Health Committee. On the national level, Dr. Stollings is the immediate past co-chair of the Council of State Governments Health Policy Committee. Additionally, he was recognized by the American Medical Association with the 2016 Nathan Davis Award for Outstanding Government Service.