Aaron Hunt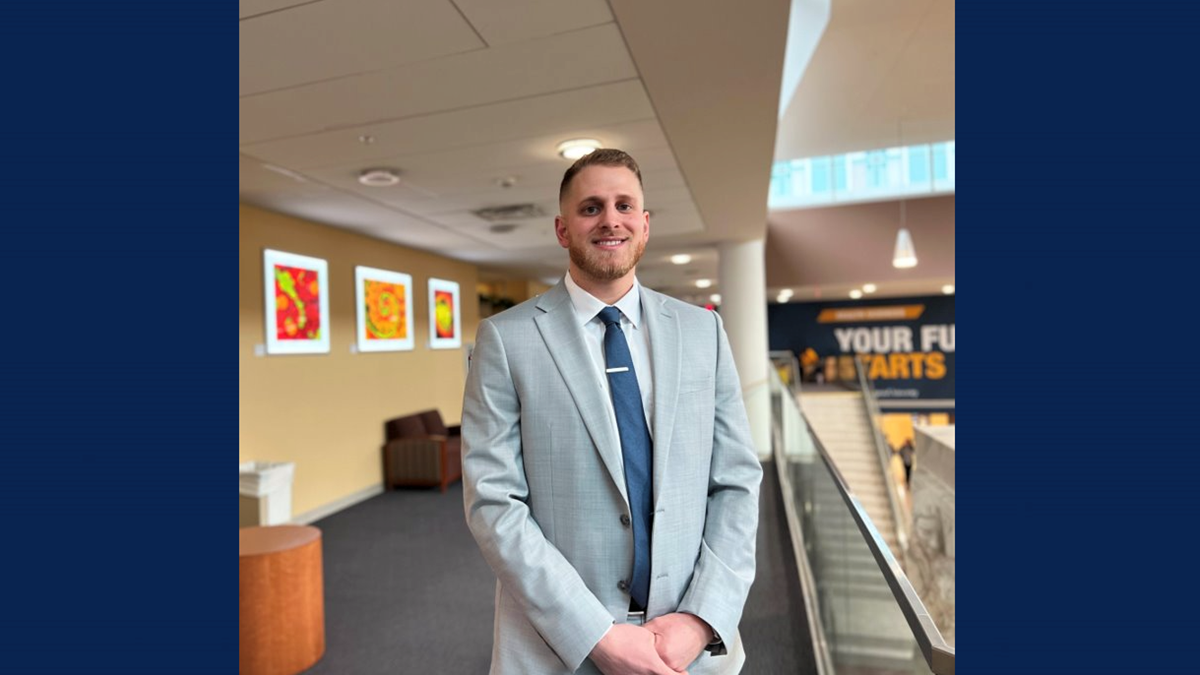 My experience with the School of Public Health has been invaluable in shaping my career goals. Engaging in extracurricular activities has allowed me to explore various areas within public health.
Why did you choose to study public health at WVU? 
To me, studying public health is not only a meaningful pursuit but also aligns with my personal aspirations of helping people and being in a leadership role. I believe that the skills and experiences I gained during my undergraduate studies prepared me well for this program. Through volunteering at various medical centers, I have come to appreciate the importance of communication and teamwork in achieving shared objectives. Ultimately, I wanted to make a positive impact and contribute to building trust in the healthcare system.  
Have any members of the faculty or staff influenced you in a unique way?
In my experience, all of the faculty members I have interacted with have had a positive impact on me. Their encouragement and genuine care for our education is clear and greatly appreciated. 
Tell us about your field placement experience.
During my field placement with the West Virginia Hospital Association in Charleston, W.Va., I collaborated with a team to create a suite of interactive dashboards using Tableau and the Robert Wood Johnson County Health Rankings Data.
The purpose of the project was to provide hospitals, community partners and other stakeholders with a user-friendly mapping tool to identify areas of need and conduct community health needs assessments. Our dashboards allowed users to visualize county health rankings and assess county scores for health factors, health outcomes and subcategories. Our goal was to simplify the process for hospitals to view their county's rankings and prioritize areas for improvement.  I am grateful this opportunity was provided to me and hope that other students in our program can get to experience this as well.  
What would you tell prospective students about WVU and the School of Public Health?
I would encourage them to pursue their passions in healthcare, whatever they may be, and assure them they will be heard. Throughout their time here, they will encounter people who will serve as mentors and provide guidance for achieving their goals.  
What advice would you give to your freshman self? 
If I could go back and give myself advice, I would say to make the most of my time in school by absorbing as much knowledge as possible and participating in as many extracurricular activities as I can.
Additionally, I would encourage myself to speak up in class and ask questions when curious. Looking back, I feel like I missed out on opportunities to learn more from my knowledgeable professors, who were always happy to elaborate further. 
How have your experiences in the School of Public Health helped prepare you for your future? 
My experience in the School of Public Health has been invaluable in shaping my career goals. Engaging in extracurricular activities, such as attending conferences and my internship has allowed me to explore various areas within public health and discover my passion for data visualization and analytics. I feel confident in pursuing a career that aligns with my interests and goals. 
What do you plan to do upon completion of your degree? 
Upon graduation, I have made a commitment to serve in the U.S. Navy through the Health Services Collegiate Program. I am set to attend Officer Development School in the summer, and upon completion, I will be placed in a Naval Hospital to fulfill my service obligation.  
What is your favorite book?
"Can't Hurt Me" by David Goggins 
Favorite movie(s)?
Spider-Man, Iron Man and Thor. 
What is your favorite music genre and/or artist?
Country/Folk, particularly Zach Bryan. 
What's a favorite place you've visited?
Colorado. Snowboarding was amazing out there and I really enjoyed the beautiful scenery. 
What is your favorite local restaurant and/or hangout spot?
Morgantown Brewing Company and Big Times.  
What is your favorite thing to do when you're not doing schoolwork?
I really enjoy being outdoors and doing activities like hiking, camping, going for walks with my dogs and snowboarding when it's in season.