Stacy Tressler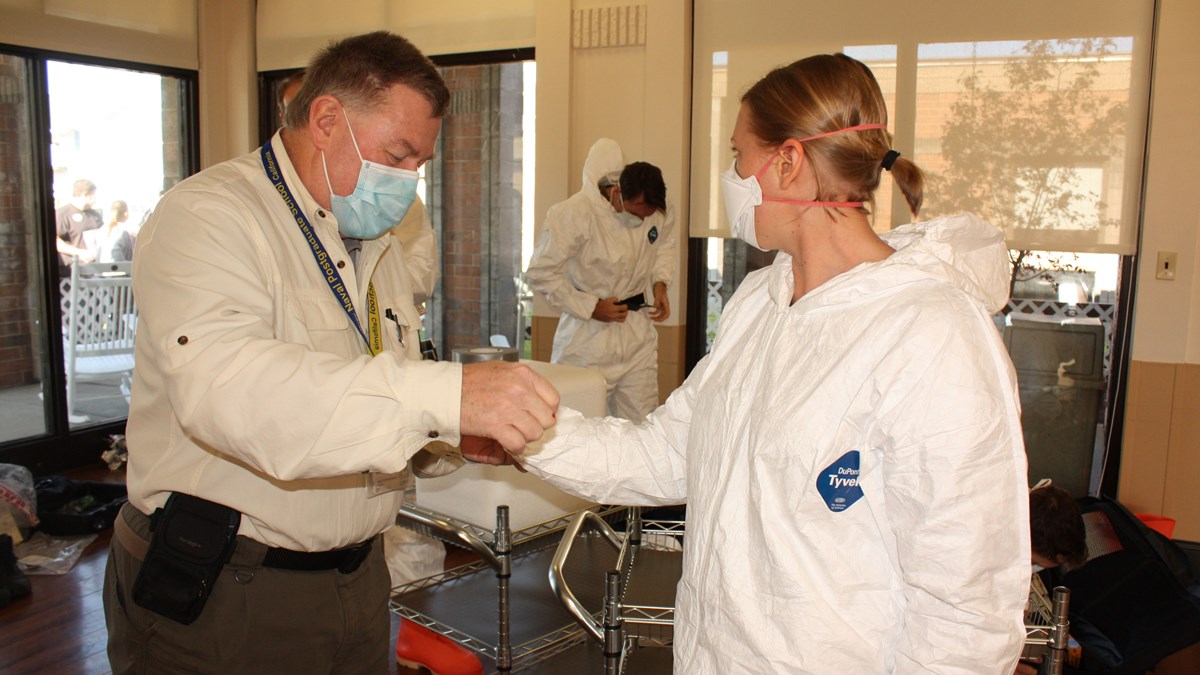 The WVU School of Public Health stands out because of its relationship with a lot of different organizations across the state.
For epidemiologist Stacy Tressler, finding a job after earning her degree was a breeze.
"I finished my dissertation on Monday and started working on Tuesday," she said.
No pomp and circumstance or turning of the tassel, but she wouldn't have had it any other way. Tressler, who just earned her PhD in Public Health Sciences with an epidemiology concentration at West Virginia University's School of Public Health, has been on the go her entire life, always eager to learn more, do more and open to wherever the journey leads her.
Now, as an epidemiologist for the Monongalia County Health Department, she feels the journey – albeit with some surprise twists and turns – has led her to exactly where she's supposed to be.
Tressler, who described herself as being pretty impulsive when she was younger, decided college wasn't for her after completing one year at the University of Pittsburgh. So, the Pennsylvania native quit school to pursue a new path.
"I really just wanted to be a snowboarder and a world traveler," she said. "I moved to Utah to become a massage therapist – and to snowboard," she said. "And I moved all around the United States and lived in different places and worked in different jobs."
From massage therapist to epidemiologist
Tressler eventually made her way back to college, earning a bachelor's in psychology from the University of Pittsburgh at Johnstown. After being prompted by her adviser, Tressler, then 26 and a first-generation college student, opted to look into public health.
"I really didn't know what I wanted to do at that point," she recalled. "I had never even heard of public health or knew what it was."
With her interest piqued, though, Tressler read "Mountains Beyond Mountains" by Tracy Kidder – an account of Dr. Paul Farmer's pursuit to solve global health challenges by curing infectious diseases.
She was inspired, recalling, "I read that book and thought, 'That sounds really great.' I looked further into public health, and it really appealed to me because I've always been kind of an idealist at heart.
"Thinking that you could be involved in a field that would allow you to have a positive impact on a lot of people really appealed to me."
Tressler moved to Corvallis, Oregon, after being accepted to OSU's Master of Public Health program. By the time she finished the program, she felt drawn to epidemiology, despite only taking one epi-specific course. Her area of emphasis was health promotion and disease prevention.
"When I finished [my degree program], it was during the 2009 H1N1 pandemic, and there was also a recession," Tressler said. "It wasn't a great time to find a job."
She applied and was accepted to the Peace Corps and assigned to work in Mongolia, but it would be another year before she would be placed.  
Tressler decided to give AmeriCorps a try, and that's what brought her to West Virginia – more than ten years ago and counting, as she noted, "I've been working in West Virginia ever since."
As an AmeriCorps Vista, Tressler was given the opportunity to work with the Berkeley and Jefferson County Health Departments. This led to opportunities assisting Marion County and Kanawha-Charleston Health Departments with threat preparedness planning. When Tressler was later offered a position with Bonnie's Bus, the WVU Cancer Institute's mobile mammography program, she accepted.
"I enjoyed my work with Bonnie's Bus, but always had epidemiology in the back of my mind and that it was something I would like to pursue further," Tressler said.
So, when a position for a hepatitis B epidemiologist opened up at the West Virginia Department of Health and Human Resources, it was the perfect opportunity. After applying and being offered the job, she returned to Charleston, where she worked for three more years.
From practice to theory – there's no wrong way
Now that she had some experience under her belt, Tressler felt the time was right to return to school and pursue her doctorate. After applying and receiving a scholarship she decided to become a full-time student.
"It was interesting, as I did things backwards," Tressler stated. "As an epidemiologist in the field, and then going back to school, I got the practice before I got the theory because I didn't have a lot of the epidemiology classes as part of my master's program."
But Tressler was more than prepared. Her decade of on-the-job experience at both the local and state levels and epidemiology training she received along the way from places like the CDC and Emory University set the foundation for her success. For Tressler, it was the best path for her, just as West Virginia University ended up being the best place for her to pursue her doctorate.
"The WVU School of Public Health stands out because of its relationship with a lot of different organizations across the state," she said. "It's not like you're doing only coursework and you don't have opportunities to go out and work in the field – because you do."
Tressler points out that the school's strategic partnerships – with organizations like the Department of Health and Human Resources, Centers for Disease Control and Prevention, National Institute for Occupational Safety and Health and local health department (with the latter two being just a few steps from the Health Sciences campus in Morgantown) – are enhanced by the school's faculty.    
"There are a lot of faculty doing really good work across the state," she said. "So, it's great because not only are you getting your coursework and this degree, but you also have the opportunity to go out alongside them, working to improve health outcomes and making an impact in people's lives because of these statewide partnerships WVU has."
And it's clear that School of Public Health faculty strive to make an impact in their students' lives, too.
"I had a lot of really wonderful experiences with the epidemiology faculty, as well as those throughout all the other departments," Tressler recalled.
"There are definitely times where the faculty believe in you more than you believe in yourself," she added. "They had to keep me going and tell me, 'yes, you can do this.' I had a lot of really great experiences, and all the credit goes to the many people there who really care about the students."