Rasika Thondukolam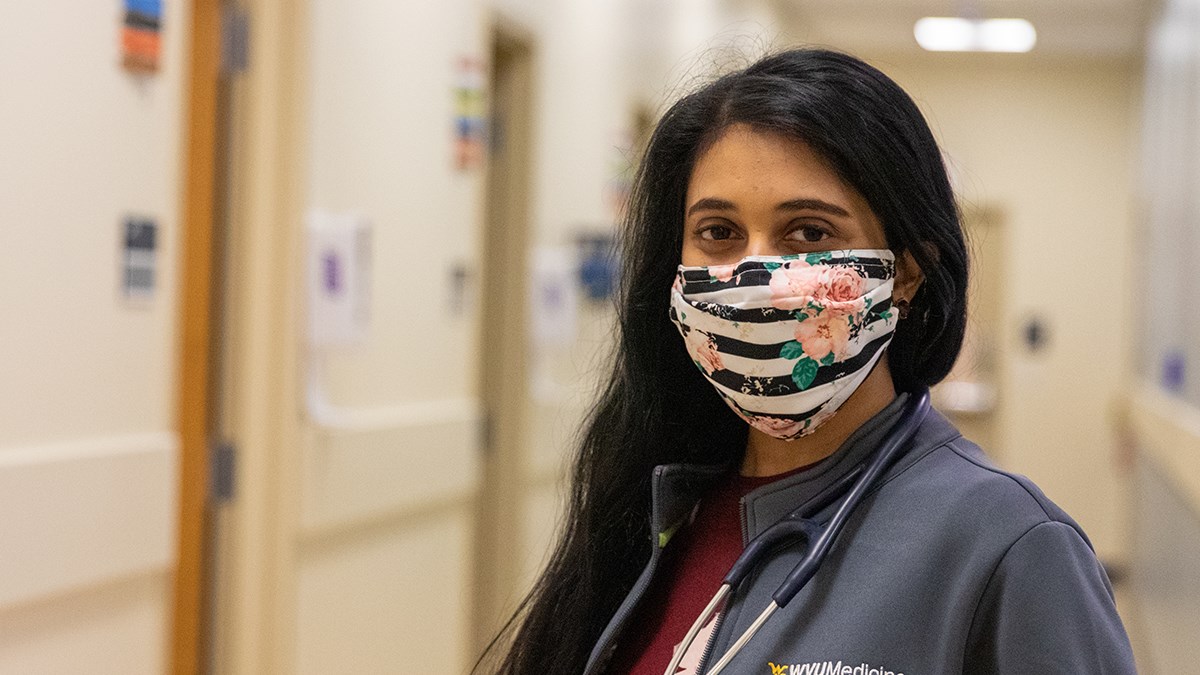 ...if you want that clinical experience while being in a place where you genuinely feel comfortable and know the people around you care about you and your success, then this is a great place to be.
"It really is the 'Thanksgiving thing.'" What's the 'Thanksgiving thing'? It's the main reason Rasika Thondukolam, MD, chose the WVU School of Public Health Occupational Medicine residency program.
Why were you interested in coming to West Virginia University?
A lot of people have asked me, "what made you decide to come all the way to West Virginia from California?" When I came here for my interview, I was so impressed with the program and I was so pleasantly surprised with the faculty, how friendly everybody was and all the different learning experiences, that I felt like even though I would be traveling across the country, I would still be in my home. We had an interview lunch and all of the faculty sat and ate lunch with us, and it kind of felt like being at the family table for Thanksgiving. That was a feeling that was so unique that I think, especially when you know you're going to spend so much time with people, you want to be with people that are genuine and you feel comfortable with and feel that really care about you and are passionate about teaching and their work.
When did you know you wanted to complete your residency in occupational medicine?
I completed a residency in general preventive medicine in public health, and I hadn't heard of occupational medicine until I started that program. So, I did a one-month rotation and I fully immersed myself in learning about work-related injuries and illnesses, prevention in the workplace and the working population. I think at that point, I knew that after I completed my general preventive medicine residency that I wanted to also complete occupational medicine because they go very well together.
What interests me the most is that intersection of being able to be both involved in public health and clinical medicine. In this country, in some ways I feel like people think that there is this divide between public health and being a doctor because there's a lot of treatment focus in terms of medicine. But this is really a very unique specialty that combines both, and it is actually advantageous because you're able to keep your patients healthier.
How have you been able to tailor your experience?
I really like the flexibility of the program. The faculty have been so supportive and encouraging of wanting each resident to be able to rotate in and get the experience they want for their career. Since I'm interested in clinical occupational medicine, I've had some fantastic experiences rotating through specialties such as radiology, pulmonary orthopedics and sports medicine. The faculty wanting to make this program be the best fit for us to do well in our careers is one of the best things about this program.
For someone who isn't familiar with occupational medicine, how would you describe the specialty?
We really take care of the worker, both the individual worker and also the working population. If you think of occupational medicine physicians, you can think of the doctors who treat people who are dealing with work-related injuries and illnesses. But it's not just treating, it's also about prevention – that's where the public health part comes in and is what makes occupational medicine unique. You are doing the clinical medicine part, and you're a public health physician at the same time. I think it gives you this great balance where you are able to work. It's rewarding because you're able to take care of people but you also have enough time to really pursue your interests, which I think is important.
What is your advice to students in medical school who might have decided on a specialty area?
I would say that you should really keep an open mind. There are specialties that you may find out about that fit your personality, passions and your talents better than some of the ones you originally thought would. So, keep an open mind and be willing to be flexible; be willing to change your mind because you may realize that something is a great fit that you never knew existed.
Why should someone choose the WVU Occupational Medicine residency program?
I think this program is really special and would recommend it to anyone interested in occupational medicine. We have a unique, close-knit culture. It's a place you want to be. It's a place where when you go home at the end of the day, you feel like the people you worked with are your family. They're your friends. And that's relevant to occupational medicine because being happy at work is important to your health. So, I would say if you want that clinical experience while being in a place where you genuinely feel comfortable and know the people around you care about you and your success, then this is a great place to be.